Are there career benefits to working abroad?
Boost your career and get the most out of your overseas salary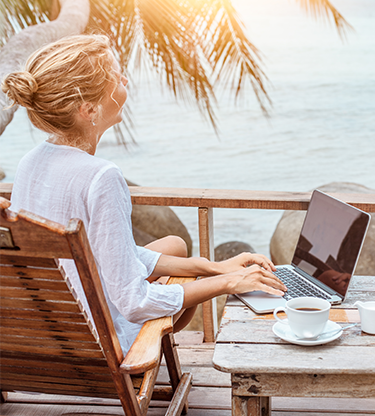 Can an overseas posting help your prospects or does it leave you out of the loop?
3 minute read
For many, working abroad might prove to be a vital stepping stone in a developing career but it's worth stopping to look at the bigger picture before you make the move. Your career aspirations and personal priorities, as well as the role you're undertaking, all have an impact on how valuable an international post may be for you.
Develop your skills and your career prospects
Overseas work experience can bring with it a number of benefits. If you successfully launch an international office, it's likely to work in your favour when it comes to advancement within your organisation. In addition, living and working abroad can bring with it a number of additional skills, including improved language skills as well as personal organisation and resilience. Those are all abilities that will be appreciated wherever your career takes you.
Keeping the home fires burning
There are some challenges, however. If you have strong ties to the UK – whether a financial commitment such as a property or more personal ties such as a relationship or a young family – then you have decisions to make about how long you're away and whether your family can make the move with you. Due to improved communications technology and cheap flights, there is also an option for an international posting to mean being away for part of each month whilst returning home to work remotely for the rest of the time.
Don't be swept up in the adventure and forget the practicalities
It's likely that an overseas posting can pay career dividends in the long term, demonstrating responsibility, resilience and commitment. However, in the short term it's worth considering the financial aspect. Even with fair remuneration, fluctuations in currency exchange rates may impact the amount of money you have in real terms.
The conversion of wages from one currency to another to cover living costs is just one example, and there isn't always a simple solution. A company could offer to pay a salary in the local currency for the duration of the posting but the chances are that people will still have connections at home. Often in this situation, international workers and commuters have one foot in two different countries, with split costs and need to repatriate funds home.
Sterling or currency salary?
If the move is permanent, it makes sense to pay in local currency but for placements with a set amount of time, there are pros and cons to each option. Payment in local currency provides a simple way to cover living costs while working abroad, but a temporary placement may mean you still have ties – and financial obligations – in the UK. Regardless of the duration of the post, you may lose out on currency exchange rates and charges so it's worth considering the best approach for your situation.
A specialist currency exchange provider can provide services for companies looking to take this headache away from their team, or for individuals to manage their own FX requirements including setting exchange rate alerts, making regular international payments and sending money online.
Whatever your payment needs are, we've got you covered...