How to work as freelancer abroad
Earning an overseas salary from remote working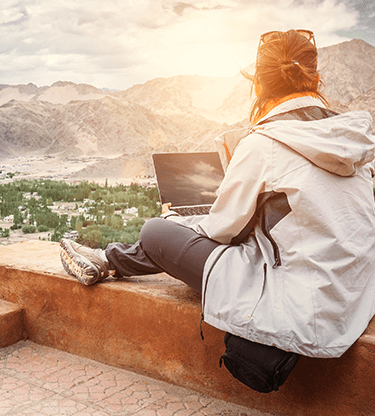 Embrace the life of the digital nomad
While the gap year is more commonly associated with students taking a break before joining the working world, freelancers are discovering that it is possible to take to the road later in life when they've established a career. As technology and communications infrastructure advances across the world, more and more people are able to take to the road as digital nomads, working remotely from exotic locations with freelance jobs abroad.
How to live as a freelancer abroad
The trend is an extension of the rise of flexible remote and home working. Some professions don't require attendance in an office or specific hours. Many professionals already work from home, and it's only a short leap of imagination and a plane ride to realise that the work can just as easily be done from a tropical location as your own back garden.
Many modern professions only really require a laptop and an internet connection, and a laptop fits very easily into a suitcase. That means you can undertake freelance work abroad from the comfort of your own apartment, and it won't matter if you want to move location after a few months.
For some, the ability to work on the move provides the chance to undertake a once in a lifetime trip without decimating their savings or losing their footing on the career ladder. Others fall in love with the open road and keep on travelling, funding their adventures with their ongoing work, or settle in a new country and continue to work remotely for years.
Enjoy a lower cost of living as an overseas freelancer
The other advantage is that many places have a lower cost of living; working remotely from Costa Rica, for example, could mean that you get more for your money and you can go surfing in your lunchbreak. This can be a way to alleviate some of the uncertainty of income from freelance jobs abroad, or mean that you need to work fewer hours to enjoy an excellent living standard, leaving more time to spend on tropical beaches.
How to manage your money freelancing abroad
It may take some planning – from negotiation with an employer or client to organising your currency exchanges both from and to the UK – but if you're looking enviously at the young people embarking on overseas adventures, it's not too late to get on the road.
Receiving payment in foreign currency for freelance work abroad can mean you lose out when converting your earnings back into your home currency with a high-street bank. However, with a moneycorp sole trader account, you can enjoy competitive exchange rates and low fees when you convert your earnings. Open an account today and get more for your money on freelance work abroad.
Whatever your payment needs are, we've got you covered...