moneycorp announces partnership with ChamberCustoms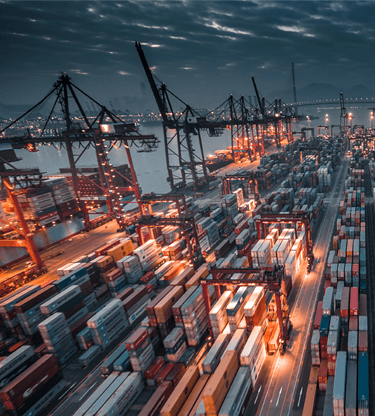 We're excited to announce a new partnership with ChamberCustoms to kick start and sustain SMEs' exporting ambitions
6 minute read
We are pleased to announce a new partnership with ChamberCustoms, a customs broker, training, and advisory service delivered through the British Chambers of Commerce across the UK. The partnership will help ChamberCustoms' clients – over 1,800 British businesses – to thrive in today's global economy, with access to a one-stop shop for mitigating risk when importing and exporting across the globe.
At a time when the markets and SMEs alike have seen unparalleled turbulence because of changes to trade borders and Covid-19, SMEs need support to get them into the international stage and kick-start economic recovery and prosperity at home. This rolling partnership offers and gives businesses access to services that will help them to protect themselves, understand their customs declarations and currency risk, all in one place. Crucially, British business leaders will be given the tools to make forward-thinking decisions when it comes to trade, through the hands-on advice and training sessions that can be provided by moneycorp and ChamberCustoms, tailored to each businesses' needs.
As a recent survey between the British Chambers of Commerce and moneycorp revealed, for those that currently export to the EU and/or the rest of the world, over 50% had concrete plans or intentions for growth in non-EU export markets. There is ample appetite to move forward trading horizons. Yet, one-fifth (21%) of firms say currency risk is more of a concern than two years ago.
New customs declarations add another layer to what might be an uncertain process for many British SMEs and make a dent in their bottom line in terms of time, manpower, and delayed goods. Yet, this partnership will consolidate brokerage, training, consultancy, and advisory services to allow businesses to have a base of knowledge at the right time, making the complexities of export and import, smooth, quick, and entirely transparent.
The partnership circumvents confusing, lengthy information online, and instead provides live support and a pool of experts on hand to guide them through the intricacies and risks of international markets into opportunity and growth. In particular, the partnership will introduce SMEs to the range of hedging options and online payment solutions available to manage currency volatility. For example, moneycorp's pioneering multi-currency IBAN, which allows customers to receive international payments from over 70 countries in just one receiving account – making payments swifter, simpler, and more secure.
There is a huge difference between reading generic, lengthy government guidance versus having clear advice from an expert on hand to support, especially when it comes to matters as important as a fiscal declaration: customs compliance is crucial. This partnership will have a pivotal impact on how businesses access relevant advice, information, and the consultancy they need when seeking the support they need to import and export goods to and from the UK.
Lee McDarby, CEO of UK International Payments at moneycorp, said:
"At moneycorp, ease, transparency, and support are paramount to us when it comes to helping our clients trading overseas. We are delighted to partner with ChamberCustoms and give our customers access to its global expertise in supporting thousands of businesses, in matters of trade, consultancy, and advisory.
As we continue to face heightened challenges and opportunities globally, especially when it comes to trade, we're hugely excited to help provide the certainty businesses need to get back on their feet and into the world. Customers shouldn't have to struggle when it comes to navigating a complex and changing set of import and customs regulations. The partnership is another step in our commitment to providing the right experts to our customers, so they are equipped with wrap-around support in all matters around international payments and trade."
Liam Smyth, Director at ChamberCustoms, said:
"The British Chambers of Commerce has had a longstanding relationship with moneycorp who already support many businesses across our network. Extending this relationship to ChamberCustoms is an obvious step, as our customers come to terms with the complexity of trading goods across the EU border now that we are outside of the single market.
As traders deal with the additional costs of trading, Chamber FX delivered by moneycorp can help our customers to gain margin back through taking a more planned approach to buying and selling across a range of currencies and open up opportunities to acquire new customers across the globe."
ENDS
For further information:
Please contact the moneycorp press office on:
About moneycorp
Established in 1979, the moneycorp group serves the growing international payments needs of global businesses, importers and exporters, online sellers, and personal clients. Headquartered in London, with a worldwide presence, moneycorp pride themselves on providing exceptional customer service. A global company with local expertise.
moneycorp is a trading name of TTT moneycorp Limited – one of the UK's fastest growing international payments providers. It is authorised for the provision of payment services by the Financial Conduct Authority under the Payment Service Regulations 2017 (reference number 308919)
moneycorp provides payments for businesses and high-net-worth individuals who can benefit from the service, scale, and footprint provided by the Group
moneycorp traded £36.9bn worth of currencies, handling millions of transactions in 2019
moneycorp provides customers with a multi-currency platform, facilitating international payments needs across 120 currencies in the last year
In 2016, moneycorp bank was established as an alternative bank offering sophisticated structured products and multi-currency accounts
The business was acquired by Bridgepoint Advisors Ltd in 2014
About ChamberCustoms
ChamberCustoms is the customs broker, training, advisory service delivered through Chambers of Commerce across the UK. ChamberCustoms is leading the way in delivering for traders across the UK to help them continue trading as easily and as efficiently as possible.
We're different from other customs broker services by harnessing the reach, expertise, and knowledge of the British Chambers of Commerce network to offer an unbeatably fast, reliable, and compliant service.
ChamberCustoms is the only customs broker with direct links to all air, sea, and land port terminals in the UK.
ChamberCustoms offers an HMRC-compliant service that you can trust, filing your customs declaration forms and additional paperwork on behalf of your business.
Our highly skilled advisors are experts in their fields, allowing us to also provide first-class training courses and bespoke consultancy services.
About the BCC / moneycorp survey:
Fieldwork for this survey was carried out between 18 and 31 January 2021 
The survey received 1,024 responses, with 95% of respondents SMEs (employing fewer than 250 employees) 
466 respondents said they exported to the EU 
29% of respondents were in the manufacturing sector; 36% of respondents were B2C service sector firms; 34% of respondents were B2B service sectors firms  
Whatever your payment needs are, we've got you covered...