Liquidity providers and multi bank pricing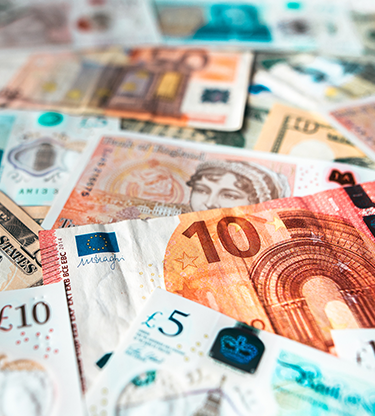 Information on how we provide you with our competitive exchange rates
3 minute read
With different exchange rates on offer across the market, customers can often accept a rate by their high street bank that could be bettered elsewhere. However, at Moneycorp, we work with 16 different liquidity providers and select the best rate on offer from this group for your exchange.
How many banks/liquidity providers does Moneycorp work with?
Made up of a wide range of UK high street banks, international banks and specialist financial institutions, our pool of 16 liquidity providers delivers competitive exchange rates on each and every trade you make. The benefit of having a larger and more diverse group of liquidity providers is that more competition naturally breeds more competitive rates and better value for your foreign exchange, plus our credit lines are more superior and extensive with a larger range of liquidity providers to choose from.
How does the process work?
Just let Moneycorp know you want to make an international payment over the phone, or you can do it yourself via your Moneycorp account. Here we will engage with our pool of 16 liquidity providers to deliver the best rate quote available for your transaction in real-time.
Once your liquidity provider has been confirmed, your payment will then reach Moneycorp, via one our multi-currency accounts, before we then send your international payment out through a number of leading bank partners to reach its intended recipient. Our capabilities allow us to cater for a wide range of payment methods, including SWIFT, CHAPS, Direct Debit, SEPA and Faster Payments.
What is the interbank exchange rate?
Financial institutions have their own market to trade currencies between themselves, and the interbank is the midpoint between the buy and sell rates for a currency on this market. This makes it the official rate, however once banks have the currency they then sell it at a lower rate, to account for their costs and profit.
Why do different banks offer different exchange rates?
Banks and financial institutions typically do not offer the interbank exchange rate to their customers, providing rates of their own for individuals and businesses alike. This is done to recover costs and to ensure a profit, and sometimes can be influenced by the particular position of the bank on the market, as well as the current sentiment towards economic and political factors that could drive further exchange rate fluctuations.
To track live exchange rates, visit our Currency Zone.