Budgeting for a wedding overseas
Getting the most out of your money ahead of the big day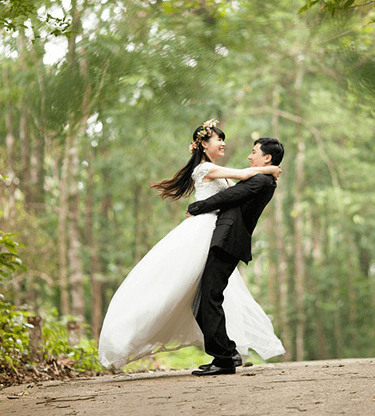 5 ways to budget for an overseas wedding
With getting married abroad typically much cheaper than having a wedding in the UK, it's understandable why so many of Brits are preferring to hold a destination wedding instead. This not only saves them money, but can also offer better weather, a more select guestlist and even the option of combining a wedding with a honeymoon.
However, whether you're getting married in Mexico, tying the knot in South Africa or nipping over the Channel to exchange nuptials in France, there could still be hidden costs when it comes to your overseas wedding. Here are five costs to watch out for and to put in your budget.
1. Luggage
Surprisingly this is something happy couples tend to forget about. While many airlines offer decent facilities, weddings often mean taking a lot more than an average holiday.
Check with your airline if you're transporting bulky and/or delicate garments, and think about how you'll be taking the wedding dress. You might not want it to be crumpled up in the holdall so you could look into the option of paying for an extra seat to store it on. It's best to confirm costs ahead of travelling and book it advance so you won't get a nasty surprise at check-in.
2. Administration and paperwork
Just because you're all covered from the UK side, it doesn't mean a wedding abroad has the same legal requirements. Research the country you are getting married in and the different legalities, otherwise you may find your wedding won't be able to go ahead.
Different legal requirements can also mean more administrative costs, so remember to budget for these. Plus, if you haven't requested the correct documents then your wedding insurance might not cover you if you have to cancel.
3. Local taxes
Getting married abroad means you might get to make the most of the local businesses, such as choosing a local florist, getting a nearby distillery to make your favours, and even just taking advantage of a restaurant in the area. It's important to check when organising with these suppliers how you'll be paying and whether that price includes local taxes and also what currency they are quoting in. It could be useful to get your suppliers to break down the cost so you can see how much taxes represent of the total quote.
4. Vaccines
Far-out exotic destinations can be even better value than Europe, especially with volatility between British sterling and the Euro. If you're thinking of getting married somewhere such as Costa Rica, South Africa or Thailand though, you need to make sure you've got all the correct vaccinations. Not all of these will be available on the NHS, so be prepared to pay for a few of them. While some countries offer vaccinations in transit, others can simply turn you away at passport control.
5. Currency exchange fees and fluctuations
Exchange rates can fluctuate often due to market volatility, significantly affecting the savings you plan to enjoy when paying for your overseas wedding. This can mean costs for your venue, flights, catering, flowers and other essentials could cost you considerably more. That's why it's best to find a specialist provider who can guide you through paying your wedding overseas.
A moneycorp account allows you to transfer money online to overseas recipients in 33 currencies, with access to 120+ currencies over the phone. If you plan on paying for your wedding in multiple instalments, you can also set up regular international payments to make things a bit easier.
In addition, you can even fix an exchange rate for up to two years, so you receive the same rate throughout. This may require a deposit, and means when rates move up, or down, your selected rate will stay the same, ensuring you know how much to factor into your overseas wedding budget.
Whatever your payment needs are, we've got you covered...
Discover our weddings abroad guide
The average cost of getting married abroad is roughly £14k cheaper than in the UK. ⁠Along with saving money, the sun, sea and an enviable wedding album are just a few more reasons why more and more couples are choosing marriage overseas. ⁠