moneycorp is proudly sponsoring The Entrepreneur Ship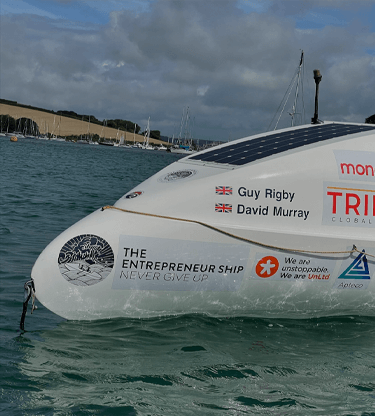 We are proud to be sponsoring The Entrepreneur Ship on The Talisker Whiskey Atlantic Challenge 2021.
In December 2021, Guy Rigby and David Murray will set off on the challenge of a lifetime, rowing 3,000 miles from the Canaries to Antigua. The boat, a 24-foot ocean rowing boat with a beam of 5' 7" was aptly christened The Entrepreneur Ship, based on Guy's belief in entrepreneurship as a powerful tool for positive social change. The two will be calling the compact living space of the boat home for what they hope will be a sub-60 day crossing, battling the elements in the first ever challenge of its kind, raising money for charity UnLtd, which finds, funds and supports talented social entrepreneurs often from minority groups.
We were honoured to sit down with Guy and learn more about the purpose and logistics of the challenge, getting an insight into the rigorous training, both mental and physical, as well as the motivation behind the venture. When we spoke, Guy had just completed a 200km row in Cornwall, which was just another round of training for the pair in the run up to the main event at the end of this year. "We're in good shape and we're moving in the right direction…and everybody tells us that if we can row around the English coast we can row the Atlantic much more easily, but nevertheless, the Atlantic is a completely different ball game".
What motivated you to take on the challenge of rowing 3,000 miles across the Atlantic?
I've always had this urge to do something real. I had about a nine year itch. I started my corporate job in London in 2008 and by about 2017 I was beginning to think about what I was going to do for the rest of my life. I was approaching 65 at the time and by the age of 66 I decided to make some decisions. I thought I would go part time at the firm I was at, and start my own consultancy business on the side as an entrepreneurs' advisor, and most importantly, I wanted to do something real. The urge to do something real was inspired by a friend of mine who was a fisherman, and while I was pushing paper around in my office, he was out on the high seas catching fish to put on the table. I found myself strangely jealous of his life because mine was all mental, while he was out dealing with the elements and having something tangible to show for it at the end of the day. So, when I finally decided I needed to do something different, I knew it had to be something 'real', but I knew I couldn't climb a mountain or run marathons as I'm just not physically that way inclined. I've always been a water baby and have long enjoyed mucking around on boats and doing a bit of sailing, and I started river rowing in around 2014. Then, on holiday in Antigua, I saw a couple of ocean rowing boats coming in, one of which was just a one-man crew, and I thought that maybe that's what I could do.
"I have found many parallels between this rowing challenge and entrepreneurship, namely the concept of starting from scratch with nothing but an idea"
The friend that inspired me, the fisherman, was 11 years older than me and passed away from cancer in 2017. I got to know his son, who is 11 years younger than me, and in 2019 I said to him, "You don't fancy rowing across the Atlantic with me, do you?" and after a quick google to make sure it was even possible to do, he was in. We initially thought we would find two others and make up a four-person crew until we discovered that if we did it as a pair we would be the oldest pair ever to row any ocean, so we decided to do it ourselves.
What's the connection between entrepreneurship and the expedition?
I'm a chartered accountant and have spent my professional life helping businesses to grow, so I'm more of an advisor than a number-cruncher. In 2008, I joined a firm for the purpose of heading up a new entrepreneurs division. The entrepreneurs sector is where I'm known as I have focused my time there for so many years, and it's what I know best, too, so it was a clear choice for me to use this opportunity to raise money for a charity that supports entrepreneurs to start businesses. The conversation then was beginning to focus on things like social mobility, disadvantaged communities, levelling up and those sorts of issues. I found this charity called UnLtd, which is a foundation for social entrepreneurs who find, fund and support entrepreneurs with a vision who are over 50% women, approaching 50% are from the BAME community, and most are from deprived areas. For me, this seemed like a powerful and natural thing to do, which would help start new businesses, employ people in their local communities and create a foundation for positive change for many people. Then, it struck me in the middle of the night that we could call ourselves 'The Entrepreneur Ship' and it all just came together!
Was there anything in particular that made you want to focus the challenge specifically on social responsibility?
I definitely believe in teaching a man to fish versus giving a man a fish. Just giving money to entrepreneurs doesn't appeal because I believe they are capable of earning it themselves, so it was the fact that we could give opportunities to people who otherwise probably wouldn't have had the chance to start a business that was most appealing. Social entrepreneurs have the ability to shape the future in a really positive way, and so I'm glad to be able to back this. I also knew that the amount of money I could raise wouldn't make a dint in a huge scale charitable venture with lots of focus on it. The aim is to raise half a million pounds, hopefully more, and that can make a big difference to a lot of people, so that's where the idea to focus on social responsibility came from.
How is preparation going and has the pandemic had any impact on your training for the challenge?
It hasn't made life easy in terms of our training and courses, but we've managed to work around it. We've now completed all of our mandatory courses, such as first aid, sea survival, ocean rowing, navigation, and radio licensing. We have a couple of courses still to do, including our water maker course and an electrical course. So there's a lot of preparation because obviously if something breaks, with only two of us there in the middle of the Atlantic Ocean, at least one of us needs to know how to fix it. We've also done about 140 hours on the boat now, which is more than the mandatory 120 hours. About 30 of those hours have been at night, and we've tried to experience a range of conditions to prepare us for anything that may crop up during the challenge, though at the end of the day, when you've got all the elements of the ocean to contend with, from weather to sea life, anything could happen.
We have four and a half months to go before the race, we have two months of the race, and then four to six weeks after the race, so we still have plenty of time, but the goal that we would love to reach after all is to raise a million pounds. It's ambitious - possibly too ambitious - but if we can get the word out enough and get people not only engaged with the excitement of following along with the race and the record we will hopefully set, but also the great cause that the funds will go to, then together we can hit that target.
"What we need in the UK are scale ups; companies that are going somewhere, moving forward, taking on people and creating employment"
What are the biggest challenges you have found so far in the run-up to the expedition?
I have found many parallels between this rowing challenge and entrepreneurship, namely the concept of starting from scratch with nothing but an idea, investigating it, building a plan, raising money, buying the kit, doing the training and so on. It's also been so much more time-consuming than I could ever have imagined, which is something every business person will undoubtedly tell you. It has taken and will continue to take a lot of mental and physical resilience, and there has also been a lot of computer and desk work, so those have been the main challenges for me so far. Also, raising money is one of the biggest challenges. We have an ambitious goal of raising a million pounds for the UnLtd charity, so raising that much money, of course, isn't easy. Again, very similar to the challenges entrepreneurs face when starting a business!
Now we're moving into the more physical stage of training and figuring out how we're going to take care of ourselves in order to, first and foremost, survive the trip. We'll have to be very careful about sun protection, eating, and staying hydrated, which can quickly become a dangerous situation when you're in the middle of the Atlantic on a rowing boat, not to mention the 40-50 foot waves and various predatory sea creatures we could encounter. We have the end game in mind, so that's what's keeping us going.
Moneycorp helps businesses from young SMEs to large organisations every day. With your experience advising entrepreneurs and your passion for helping businesses to succeed, what advice would you give businesses today?
It's obviously been a difficult time for businesses due to a combination of both Brexit and the pandemic. I think proactivity is the most important thing for businesses to succeed, especially during such tough times. You can't keep turning the same old handle, because you'll just get the same result. If you're doing very well, of course, that's different, although my motto is the opposite of a well-known one, and it's 'if it isn't broken, break it'. What that means is that there's always a better way, so just keep going, find the better way and avoid stagnation. A lot of people fall into what they do and that becomes their business and their everyday. I think that before you fall into something, you have to think about longevity and prospects for growth. What we need in the UK are scale ups; companies that are going somewhere, moving forward, taking on people and creating employment.
Going back to my previous story about my fisherman friend and him inspiring me to do something 'real', I think stimulation is another key ingredient for success. Going stale and becoming bored are two things I'm terrified of, and so I advise those with a vision and a passion to just keep going, be proactive and if there's something you really want to do, which has that longevity, prospect for growth, and is well thought through, then go for it.
Whatever your payment needs are, we've got you covered...