Looking forward with British 'Brand of Tomorrow', Shackleton.
In conversation with award-winning British business, Shackleton, on redefining the moment and navigating the challenges of the past year.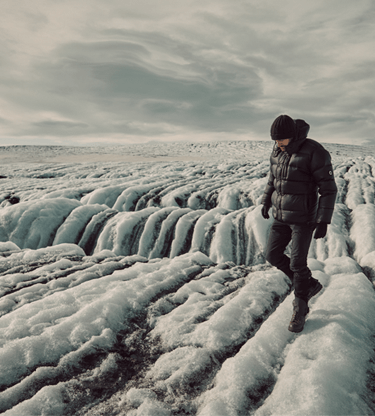 Inspired by the past but with sights set firmly on the future, it's no surprise that London-based luxury performance apparel brand, Shackleton, was named 'Brand of Tomorrow' by the British luxury brands association, Walpole.
Founded on the legacy, history and values of Sir Ernest Shackleton, a renowned expedition leader and polar explorer of the 1900s, the Shackleton brand creates high-quality clothing steered by purpose and performance. Sourcing luxury materials both locally and further afield, each finished piece is stylish, of course, but never at the expense of efficiency, performance or comfort. Rooted in exploration and polar landscape, it is entirely unsurprising that environmental preservation is sacrosanct at Shackleton (100% sustainability is the goal), or that they're about to launch an adventure travel business taking people on expeditions to extreme locations with record breaking polar explorer and former SAS soldier, Louis Rudd MBE (Shackleton Director of Expeditions).
Ahead of our conversation, co-founder Ian Holdcroft cautions that the business is still relatively young and small, 'albeit growing quickly and with ambitious plans', but he needn't have done so. Despite its youth, Shackleton has approached the challenges of the last year with positivity and grit. Perhaps dealing with the combination of Brexit and the pandemic all at once forced the young business to mature beyond its years, especially in relation to difficult decision making, creative thinking, and damage control.
Three months after Brexit, and amidst a third national lockdown, we discuss (virtually) the impact of the past year on Shackleton and the luxury retail sector in general, from supply chain disruption to currency risk, what Shackleton and other SMEs can learn from this experience, and of course, what's next for the ambitious brand.


Who is Shackleton?
Based in London, we design and make luxury, high performance clothing, primarily outerwear and knitwear at the moment. As a brand we are built on the shoulders of Sir Ernest Shackleton, who to this very day is still studied in places like Harvard Business School and many large corporations. He is regarded as the go to model for managers and leaders who operate in extreme and testing situations, but have to perform to a very high standard.
Our first real range was autumn winter 2016, so we are still a pretty young business. Around 60% of our revenue comes from the UK and about 40% from overseas, with about 20% overall coming from North America. We've recently made a shift, and this year we will be starting to move towards 100% sustainability, so we'll be using a lot of recyclable and recycled fabrics in all of our clothing. There are some challenges around some components of clothing, which aren't quite there yet in terms of being 100% recycled, but that's our ambition and we should get there in the next two or three years.


As a young SME, what are the main challenges you have faced over the last year as a result of both Brexit and the pandemic?
From a Brexit point of view, we didn't really feel the impact until the start of this year in terms of importing and exporting in and out of Europe. Up until then there was a lot of uncertainty, and I think uncertainty is almost worse than bad news, because at least with bad news you know what to deal with and you can find solutions to the problem. There was so much speculation about policies and how different businesses and different sectors of the economy would be impacted, and so it was very difficult to plan with any kind of confidence.
Then, we were within days of closing a significant investment round when the pandemic broke out and the lead investor decided not to follow through. We were building the team and investing on the basis that those funds were going to come through, so that was very difficult for us. We immediately went into survival mode, thinking, "Everything we do right now has to be about making sure that we can survive. Let's stop worrying about what happens next year or in five or ten years' time, and think only about what we're going to do tomorrow to make sure we can stay in the game and keep the business going".
"If you wait for a perfect moment then it will never come because there is no such thing...I think a lot of it comes down to gut feeling and just having the confidence to go for it"
Then, when our factories closed down, all of a sudden our whole supply chain was disrupted and we couldn't have product made. As a product-based company we have to sell product to make money, so everything ground to a halt. We had to make some significant decisions; when all retail closed down, we decided to become purely focused on direct-to-consumer, using our own website and our own stores, and that's become our big business focus going forward.

Shackleton is part of the luxury business sector – do you think that any of the impacts you have experienced over the last year are specific to luxury businesses?
Ecommerce has evolved over the last 5-10 years, with more and more traditional brands transitioning to online retail, but luxury brands were a little reticent to do so and I think it's because of the price point. Luxury brand consumers want an amazing experience and fantastic customer service. They want to touch, feel, and try on products; to go into a store and immerse themselves in the brand. You don't really get that through an online transaction. So I think because we are in that luxury sector, when our bricks and mortar outlets closed our revenue dried up almost immediately.
Now, 12 months on, consumers are so used to shopping online and courier services are so much better. Now you can get the whole works: purchase, deliver to your door, try it on, either keep it or send it back, and all within a matter of 24 hours. It has totally changed consumption habits and luxury brands have totally understood how to transition the luxury experience into an ecommerce-based environment. Technology is so great now that you can do personal shopping online, have virtual tours of the stores, and look at products, which is so much more immersive. Going forward I think luxury brands will have to combine amazing bricks and mortar experiences with online experience because now consumers simply demand that.

Has your exposure to currency risk changed over the last 12 months, and if so, how do you manage that risk?
We buy in euros, US dollars, Japanese yen and Swiss franc. For a business our size, if we were having to buy, let's say 250,000 euros worth of product from Italy, then fluctuations in the exchange rate could have a pretty significant impact on us. It might only be two or three percent, but in actual numbers that's a lot to lose on a transaction. Over the last year, uncertainty added extra stress around planning, and no one really knew what would happen with duties and VAT etc. I think using somebody like moneycorp helps a lot because we can hedge some of that risk, and we have access to your internal team of analysts who are closer to the action so to speak, in terms of understanding what the likelihood is of sterling weakening or strengthening versus dollar or euro, which is really helpful, and it's a heck of a lot better than the service you get from a high street bank, for instance. Moneycorp is also pretty good at sending out reports on things like the economic impact of Brexit and the pandemic, too.

As a business owner, what's the most important thing you look for in an international payments provider?
Talking to a human, definitely. I think that's really important. A good mix of being able to do things online but with support from a human being is the right way to go. Coming from a retail perspective but applying to FX, too, I think good customer service is actually that perfect blend of speed, efficiency, and accessibility of tech, but with the knowing that you can pick up the phone and speak to a human being if you need support or guidance. And then, when it comes to transaction charges I think that's probably a secondary consideration if the service is good and reliable. If we are transferring a couple of hundred thousand dollars to a supplier, we need them to know that they're getting the money when they're supposed to get it. If the service is good for them it looks more favourably on us as their customer, too.

What advice would you offer other SMEs that might be in slightly earlier stages than you, but are looking to grow and progress?
The two are probably linked. This time last year my co-founding partner and I crucially realised that you have to define the moment rather than let it define you. So we thought about the things that we love about our business, and then about what differences we could make to put ourselves in a better position. In some sense, we tried to look at the difficulties as a blessing in disguise and thought, "what differences can we make now that could put us in a better position when we come out the other side?" So we made some decisions that probably transformed the business significantly. We had pop ups in Mayfair and Chelsea last year, and although the latter wasn't open very long as retail closed again, that was amazing. We have put a big focus on sustainability now, too - using recycled and recyclable materials - which was really important for us.
In terms of advice, I think you can either use uncertainty to totally cripple you and to be the prime source of stress, or you can try to find a way of controlling all the things that you can do to improve your business. If you wait for a perfect moment then it will never come because there is no such thing. As long as you've considered and planned things properly, I think a lot of it comes down to gut feeling and just having the confidence to go for it.

What's next for Shackleton? Do you have plans for more global expansion in a post-Brexit world?
We are extremely ambitious and we want to build Shackleton into a global brand, including launching our adventure travel business. Our focus in the next sort of 1-3 years is Europe and North America, selecting key cities that suit our cold weather brand, like New York, Chicago, Boston, Toronto and Montreal. Our strategy is to have an American and Canadian specific website and then have either pop-up stores or more permanent stores in those cities. In terms of Europe, our key markets are Germany and Scandinavia. Beyond that, we're having some early conversations about what we can do in China and Hong Kong, but that's more of a 3-5 year timeline, so the immediate focus is the UK, then rollout into North America and Europe.
The whole Brexit thing needs to settle down a little bit as there are a lot of teething problems. There always seems to be something going wrong, like product being shipped from Italy into the UK being held up in customs. Once things settle down and we understand the implications better, we might have to make decisions around having a Europe-based distribution centre so that we can service European customers from there, eliminating some of that risk. It seems as though [post-Brexit] trade agreements are advancing, and there have been some changes to fashion tariffs. You've got to keep a constant eye on these things when you're planning to expand globally, but we're not waiting for them as such.
Whatever your payment needs are, we've got you covered...