The cost of living in the UK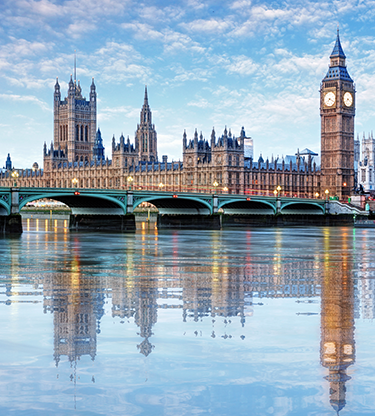 We take a look at the cost of living across the UK to help you make your plans
For a small island, the UK has a lot to offer. From the heritage and culture to the varied countryside and bustling cities, whatever your preference you can find a home to suit. The UK is also a thriving hub of industry and innovation, with many specialist industries leading the field and universities with world-class research facilities. If you're planning to make the move to Britain, you'll need to consider the cost of living in the UK to help make those plans a reality.
Is the UK an expensive place to live?
Whether or not you'll find the UK expensive depends on where you're coming from. Compared to the US, a range of costs including rent, groceries and consumer prices are all lower in the UK. However, some areas, including restaurant prices and public transport, are more expensive. In contrast, data from Eurostat shows that housing costs are over 50% higher than the EU average.
While accommodation is a major consideration, the impact of the different prices may depend on your lifestyle, but it's worth researching the costs of anything that might impact you. London has some of the most expensive rented accommodation in the world but a recent report from Mercer showed that London was one of several UK cities that has slipped down the rankings of the most expensive cities to live in the world. Other cities that also fell included Birmingham, Aberdeen and Belfast. The report found that the strengthening of the US dollar had an impact.
Kate Fitzpatrick, Mercer global mobility practice leader for UK and Ireland added that, "Price inflation remains low, keeping any increases in the cost of living to a minimum for expatriates and locals alike." Glasgow bucked the trend, rising three places in the Mercer report due to stronger demand for apartments in the Scottish city.
Where in the UK should you live?
If you have a choice about where you live, then there are other factors you might want to consider. The Office of National Statistics (ONS) highlights that while many overseas visitors may think of London as their dream location, rural and coastal locations are among the happiest places in the UK. However, in some places this corresponds to a rise in house prices but it isn't always the case. The Staffordshire Moorlands in the beautiful Peak District, for example, have house prices that are lower than the national average according to Savills estate agents but the challenge is that it is remote and there are fewer employment opportunities in such areas.
A quality of life survey from the Halifax building society considered a range of factors when ranking towns, including work, housing, education, health and how people feel overall. Their top five covers a broad geographical area, although centred in the North:
Orkney, Scotland
Richmondshire, Yorkshire and the Humber
Rutland, East Midlands
Hambleton, Yorkshire and the Humber
Eden, North West
The South East may have the most locations in the top 50, but the relationship between lower house prices compared to average earnings in the North mean that it may be worth looking further afield.
What is the cost of living in London?
As with most capital cities, London commands a higher cost of living than the rest of the UK. While the prices of groceries and many other essentials will remain relatively similar, rental costs and property prices are considerably more. Below is a list of the average prices of accommodation both inside and outside of London (all prices sourced from Numbeo.com on 13th January 2020).
| | | |
| --- | --- | --- |
| Type of property | London | Outside of London |
| Monthly rent for 1 bedroom apartment (city centre) | £1,724 | £721.52 |
| Monthly rent for 1 bedroom apartment (outside centre) | £1,214 | £581.32 |
| Monthly rent for 3 bedroom apartment (city centre) | £3,117 | £1,216 |
| Monthly rent for 3 bedroom apartment (outside centre) | £2,035 | £930.76 |
| Price per square meter to buy apartment (city centre) | £13,069 | £4,350 |
| Price per square meter to buy apartment (outside centre) | £6,981 | £2,933 |
Currency considerations
If you're moving to the UK from overseas, and particularly if you're saving up to make the move, you'll want to take into account the cost of currency conversion when considering cost of living in UK.
An exchange rate can fluctuate, with the pound having been particularly volatile due to the uncertainty of the Brexit outcome. A sudden rise in the value of the pound may mean that you receive less than you're bargained for, but if the pound is weakened by continued uncertainty it may present an opportunity to get more value from the currency exchange.
A specialist can help you make the most of your money when making an international transfer and also provide access to a range of specialist tools including automated regular payments back home and a convenient online account and mobile app to manage your money across different countries.
Whatever your payment needs are, we've got you covered...