Climbing the international business ladder with Playdale
In conversation with award-winning UK business, Playdale, on overcoming the challenges of Covid-19 and leaving the EU in the same year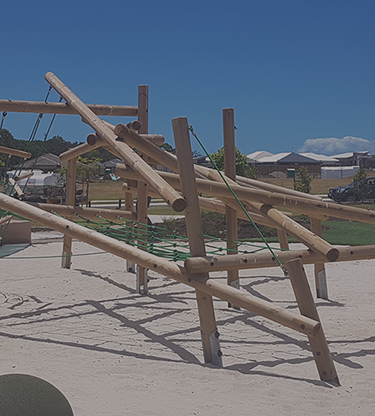 South Cumbrian playground manufacturer Playdale launched the first outdoor touch-free hand sanitiser station in a year plagued by Covid-19, and Brexit.
6 minute read
Innovation and resilience comes naturally to the award-winning business, having previously won 'UK Manufacturer of the Year' and 'UK SME Exporter of the Year'. Throughout the pandemic the UK government have used Playdale as best practice in business, and despite everything 2020 threw at the worldwide economy, CEO Barry Leahey is confident and optimistic about the future. Receiving an MBE in 2017 for services to international trade, we spoke to Barry about how Playdale exports to 57% of the global population, covering 49 countries, and the importance of working with the Department of Trade, as well as top tips for businesses in 2021.
Why did Playdale first start exporting?
We realised we could be the biggest and the best in the world. Back in 2007, Playdale won an international tender to build playgrounds in every town in the UK as part of the tender's corporate social responsibility strategy. We were up against the biggest playground companies in the world and when we won that contract, it showed us who we could be. The financial crisis and austerity then hit, and while the government did ring-fence funds for playgrounds, those plans were curtailed a few years later.
At that point we realised that we had to diversify. Back then we were solely relying on Europe's biggest market, the UK, for work. Initially, in the research stage, we were looking at the number of children in a country's population, to gauge whether there was appetite for playgrounds internationally. But one of the most straightforward ways of scoping out potential business is simply looking at whether competitors were in that space.
What would your advice be to businesses looking to export?
Do your research and get out there and do it. There's no point sitting at a desk talking about it, you've just got to jump in. We get boots on the ground and visit potential distributors that the Department of International Trade (DIT) have helped select for us. I highly recommend working with the DIT as they opened so many doors for us as a business. Getting to know the culture, visiting existing play areas, meeting school leaders – it all helps us to build a picture of the potential for playgrounds in that area.
I'm not saying it's easy, but you've just got to dip your toe and give it a go. Our first export didn't even end up being to Europe, but was actually to South Korea in the end, so don't put limits on yourself. Speak to other businesses, the DIT, your local Chamber of Commerce – you'd be surprised about how much help is out there.
How has Playdale overcome the dual difficulties of Covid-19 and leaving the EU in the same year?
Because of our global distributors we knew Covid-19 was coming – we work in China, so we saw it quite a way off. Enquiries were hit from January 2020, and our pipeline in the UK is roughly six to seven months. So, we utilised government support, and after three months of lockdown playgrounds were eventually reopened. From then on, we've been recovering well as a business. Initially our first response was to make sure our colleagues were okay, and then, after four weeks of closure, we were able to reopen our manufacturing operations. This made us, one of the first, if not the first, Covid-secure SME to reopen.
While we switched our 3D printers to making visors, we also focused on getting playgrounds reopened. Within six weeks, we developed the world's first fully inclusive outdoor hand sanitiser station, PlayClean. It's wheelchair friendly, weatherproof, battery operated, and can service 30 children in a minute. The sanitiser is being used in playgrounds as far as Singapore, Australia and the UAE.
With Covid-19 we had to adapt rapidly, but with Brexit we had time to prepare. We were one of the first to gain Authorised Economic Operator (AEO) status, we stockpiled three times, and prepared our warehouses with everything we needed to trade post-Brexit. Our forward planning also benefitted from the expertise we already had in-house – only 15% of our exports are destined for the EU, so our knowledge of exporting worldwide set us in good stead.
It's not going to be frictionless trade, and I think that's important for people to understand. With the deal being secured at the last minute, and the UK's response to Covid-19 in comparison to other countries means we can't trade on the Great Britain brand right now. We have to put the Great back into Great Britain as businesses trading internationally.
What does the future hold?
Worldwide there is going to be less money. But in the UK, we're glad the government realised that playgrounds should stay open in lockdowns – Covid-19 reinvigorated our love for playgrounds and put the need for them back on people's radars.
There's been a steep increase in people buying dogs as they're at home a lot more now, and over in the US and Canada there is a big market for dog agility and dog walking parks. Being agile, we can expand into this with relative ease, and because we are used to exporting, we adapt well and are flexible to changing our bread and butter. It's not going to be easy, in the UK unfortunately playgrounds come after potholes when it comes to council priorities, but we will always find something to fill any potential gaps.
And what would be your top tip for business success in 2021?
Everyone gets tied up in the day to day and misses out on the long-term vision, often working in the business not on the business. Don't be afraid to adapt, if we hadn't of started exporting, I don't know if Playdale would still be here today. Change can be good, and enjoy the journey.
Whatever your payment needs are, we've got you covered...