Working as an expat in Singapore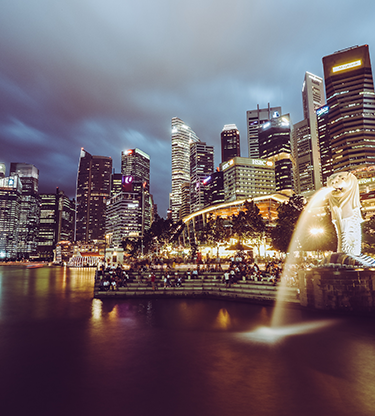 What to consider when applying for an overseas job Singapore
Singapore is renowned across the world for its ever-expanding job market, and currently employs a large population of working professional expats from the UK, US and Europe. With thriving finance, IT and tourism industries, Singapore has become a huge attraction for professionals from abroad looking to experience working in a new culture, while the high wages, low taxation and warm climate are also huge draws.
If you are looking to work in Singapore or are interested in an overseas posting at the Singaporean branch of your company, here's everything you need to know about moving to the city state for work.
How to find work in Singapore
Looking for a job in Singapore is very similar to job searching in the UK. There are a few different avenues you can explore when looking for your dream role, these include searching online for a position in Singapore. Job sites such as Monster, Jobs Central and Job Street are popular examples, while there are many more that can help you to find a job suited to your experience and requirements.
Alternatively, you may wish to enquire within your current company regarding an overseas posting or any positions available in Singapore. International businesses often have offices and staff overseas, offering an easy and convenient route for working as an expat in Singapore without having to leave your current company.
Work eligibility in Singapore
After you've secured a job in Singapore, you will need to apply a work visa. You can apply for your visa online, with the majority of applications taking just seven days to be processed. It's especially important to apply for the correct visa, to ensure you are legally entitled to work in Singapore and won't face any issues when you arrive.
The following visa types are available for those applying to work as an expat in Singapore:
Employment Pass – this visa is for working professionals earning at least S$3,600 (Singapore Dollars) or roughly and requires a managerial, executive or specialised position, with sufficient qualifications.
S Pass – the most common visa for expats working in Singapore, an S Pass can be given to those earning at least S$2,200 (Singapore Dollars) monthly and requires an assessment to be passed.
EntrePass – If you are looking to start a business in Singapore, then you will need to apply for this visa for entrepreneurs.
Personalized Employment Pass – this visa is for high earners that already have received an Employment Pass, providing greater flexibility for moving industries or positions.
Other factors to consider before working as an expat in Singapore
Before you make the move to apply for an overseas position in Singapore, you may wish to familiarise yourself with the country's employment laws and regulations.
Factors such as taxation, working hours, sick pay, holiday leave and contract law may affect your decision to move, while you may also find that the reality of working in Singapore is slightly different to working in the UK.
As with every big life decision, it is important to weigh your options and consider the relevant factors before you move overseas for an expat job in Singapore. However, with a once-in-a-lifetime experience on offer, complete with an entirely different culture and way of life, Singapore offers a popular and vibrant scene for working professionals from overseas.
How to send money to and from Singapore
Working as an expat in Singapore, you'll most likely want to open a local bank account to receive your salary in SGD. However, if you want to send money back to the UK, or even make a payment into your Singaporean bank account from outside the country, you should consider your foreign exchange needs.
Making an international payment from a UK bank account to a bank account in Singapore can incur charges of up to £30 in transfer fees. At the same time, a poor exchange rate and costly transfer fees could be affecting your payment if you are sending money back to the UK from your Singapore account.
Fortunately, you can enjoy a competitive exchange rate and zero online transfer fees when you send money to or from Singapore with a moneycorp account for overseas payments. We allow you to access your funds 24/7, target a particular rate and set up a Regular Payment Plan* over the phone to regularly transfer some of your earnings back to the UK.
Sign up for a free account today or speak to one of our currency specialists.
*A Regular Payment Plan requires a fee to set up
Whatever your payment needs are, we've got you covered...