Why you should consider overseas study
Reasons to study at a foreign university or take a year abroad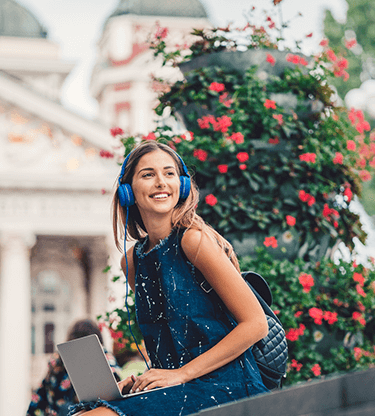 Planning on studying in a foreign country?
4 minute read
Whether for a semester, a year or a full course, there are many benefits of studying abroad. It's hard to avoid the clichés when describing the experience, but most students who have embarked on one would tell you about the 'once-in-a-lifetime' opportunity it provides.
Do I need to know the language?
If you choose to study in a foreign country where English isn't the first language, then you'll be given the opportunity to expand your horizons and either learn a new language or improve your knowledge of it. The best way to learn a language is through immersion, and whether you're there for a year or for longer, you'll be able to improve your skills drastically as you're surrounded by this language on a daily basis.
Whilst studying abroad is a great way to acquire language skills, you don't have to let it stop you if you're yet to learn. Universities in Germany and the Netherlands offer many courses in English. China is slowly gaining traction as a popular location to study and the Chinese government provides some sponsorship or support for foreign students.
How much does it cost to study abroad?
Since the trebling of the cap on UK tuition fees trebling in 2012, it can work out much cheaper to study abroad for your degree.
Germany and the Netherlands are both popular options for British students, having excellent transport links, many courses available in English and substantially cheaper tuition fees.
Can you get a student loan to study overseas?
If you choose to study abroad for a year as part of your UK university degree, in most cases you will simply need to pay for the tuition at the foreign university, rather than pay for another year at your UK university. This can be done through Student Finance, if you have already taken a student loan, as they will loan you the money to pay your foreign tuition fees.
The majority of the UK student population relies on their student loan to finance their study and living expenses. While those planning to study a year overseas can continue to receive student loans for studying abroad, those that plan on studying a full degree abroad are not able to.
While the UK body Student Finance does not provide funding for UK students studying their full courses abroad, there are various scholarships and endowments available as an alternative.
What is the impact of Brexit on studying overseas?
While the laws are set to change, that shouldn't discourage you from studying abroad. The impact of Brexit is still to be determine and Britain's future involvement in the Erasmus programme is uncertain.
The current Erasmus+ scheme is set to end in December 2020, however the future remains uncertain for the programme. Read our guide on studying abroad after Brexit.
Looking beyond Europe for study opportunities
Europe isn't the only destination option for Brits looking to move abroad to study.
The US has many prestigious universities, for example, and while fees can be high, there are many scholarships available. In addition, although the destination may not provide language skills it can still prove to be an invaluable experience.
Universities across Asia are also seeking to attract overseas students with English-speaking courses in a range of subjects including engineering and digital technology, while they boast low tuition fees and numerous scholarship schemes.
Managing your money when at an overseas university
To have studied in a foreign country is a valuable feature to have on your CV, both for the life skills you learn as you adapt to life in a foreign country and because the foreign language skills gained are hugely beneficial in the current job market.
If you're heading out shortly or are interested in studying overseas, we can help you pay for your tuition, accommodation and living costs with a foreign currency exchange account.
Whatever your payment needs are, we've got you covered...