The future of the food & drink industry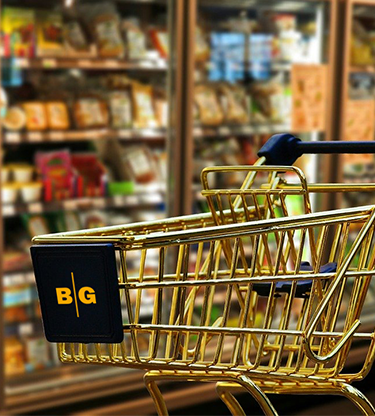 How the FMCG industry is adapting in challenging times
As one of the few business sectors allowed to operate throughout lockdown, the food and drink sector has had to adapt quickly to Covid-19, changing consumer demands and supply chain strains.
However, in difficult times, lies opportunity. For many businesses, embracing the global market during this period of extensive change could provide new revenue, but international trade can come with extra risks. In addition to our extensive food & drink whitepaper on the current challenges, and our insightful industry update webinar with Head of London Outbound Sales, Alex Price, moneycorp caught up with Bolst Global's Founder Victoria Boldison. Providing export solutions for UK, European and Middle Eastern businesses, learn what effect the pandemic has had on the FMCG industry, as well as emerging trends, the demand for British products and where Victoria sees potential for businesses looking to grow internationally.
What has been the effect of Covid-19 on the FMCG industry, particularly when it comes to the food and drink sector?
"From our perspective it has been a mixed one. As the lockdowns started earlier this year, due to the panic buying and stockpiling of many shoppers, there was the initial upsurge in demand for supply, especially for more commoditised food products such as pasta, rice, and flour. There was equally very high demand for shopping basics around the world such as bread, eggs and milk with local and international providers struggling to keep up with supplies.
"Talking to our clients and export community we have also seen that globally there has been an increase in the more premium food and drink space too. With restaurants closed and much of the world population confined to their homes for this period, for those consumers with purchasing power there has been a trend to indulge and divert spending from the usual socialising to high-end and higher quality food and drink items.
"For the FMCG brands that were not viewed as essential then for some they have witnessed a much slower demand for their goods in the initial Covid-19 period, for example, Easter eggs left on supermarket shelves. However, as restrictions are lifted opportunities for these products start to reignite again.
"Finally, it is worth noting that we have also experienced through our client base a very high global demand for vitamins and supplements, with many consumers turning to supplementation in order to keep their immune systems as robust as possible. B-vitamins for energy as well as vitamin C, zinc and vitamin D have been extremely sought after and a backlog of orders is still being experienced by many manufacturers for these kind of products."
How do you think not just coronavirus, but also Brexit and the US-China trade war, could affect global supply chains and demand for food & drink?
"It certainly is a very interesting time for companies and supply chains active in cross border trade. For some they may say it is going to become too challenging. However, for us we see this is an opportunity and will seek out those via trade deals and supply and demand economies that give UK producers a competitive edge right now.
"My view is that if you have a good product, can communicate that across borders, and stay simultaneously agile and resilient, then you will continue to have global opportunities available for your brand.
"The demand for good quality, innovative food and drink products which we are known for by international buyers will not change. It may just be that our ability to provide them will have to. Those producers who can keep abreast of the changes that Brexit is bringing and use them advantageously will be the best positioned to emerge successful in their global development in the long run."
Have you seen any emerging food & drink trends, or a change in consumer tastes recently?
"Definitely so. We have known for some time now of the global trends for a healthier lifestyle, with 'Free From', organic and plant based booming in many of the world's food and beverage sectors.
"However, with Covid-19 and the threat of the virus still being very much present, consumers around the world are really taking more notice than ever before of those products which can make a difference to improving their health and well-being. As a result, items which can demonstrate a clear health benefit have and will continue to perform well over the coming months. In many ways I believe this will be the catalyst to further entrench these kind of healthier products in our everyday lives.
"If we take a specific example, the UAE has seen an upsurge in both the organic and ketogenic products by consumers with increased demand in these kind of products which can support healthier eating and habits.
"Particularly during lockdown, consumers have turned to e-commerce for their supplies. It has spurned some of the retailers in international markets who have been slow off the mark to offer this option to their shoppers. They need to act quickly and provide that service, which again will have a long lasting effect on the shopper behaviours in the future."
What is the demand like for British produce overseas?
"From our own experience at Bolst Global we have seen first-hand the demand for high quality, innovative British food and drink in international markets. We shouldn't forget that what we offer the world is usually perceived as high quality, from a dependable supply chain and ahead of many of the other global markets in terms of trends. As such we should be making much more efforts to seek out international partners and opportunities for the excellent products and innovative technologies in the food and drink space that we can offer.
"With the UK market only making up 0.8% of the global consumer base then limiting to your domestic customer base would be restrictive, if your ambitions for your brand and business are big, and could prevent you for tapping into the many rewards that developing business overseas can offer you."
Which countries or locations do you see as opportunities for food & drink brands to grow in, either by exporting to or importing from?
"In light of Brexit, we are finding a greater appetite for brands and manufacturers looking further afield than Europe for their business development activities. For those products where British heritage and quality are emphasised then these companies tend to gravitate to the Middle and Far East regions where with the right product on offer and commitment to invest in these markets then they could certainly have long term success."
Bolst Global is a proud partner of moneycorp. It is an international business consultancy and export solutions provider, specialising in the food, drink and supplements sector. Find out more www.bolstglobal.com
Whatever your payment needs are, we've got you covered...