Proud Sponsors of the Telegraph Trade Awards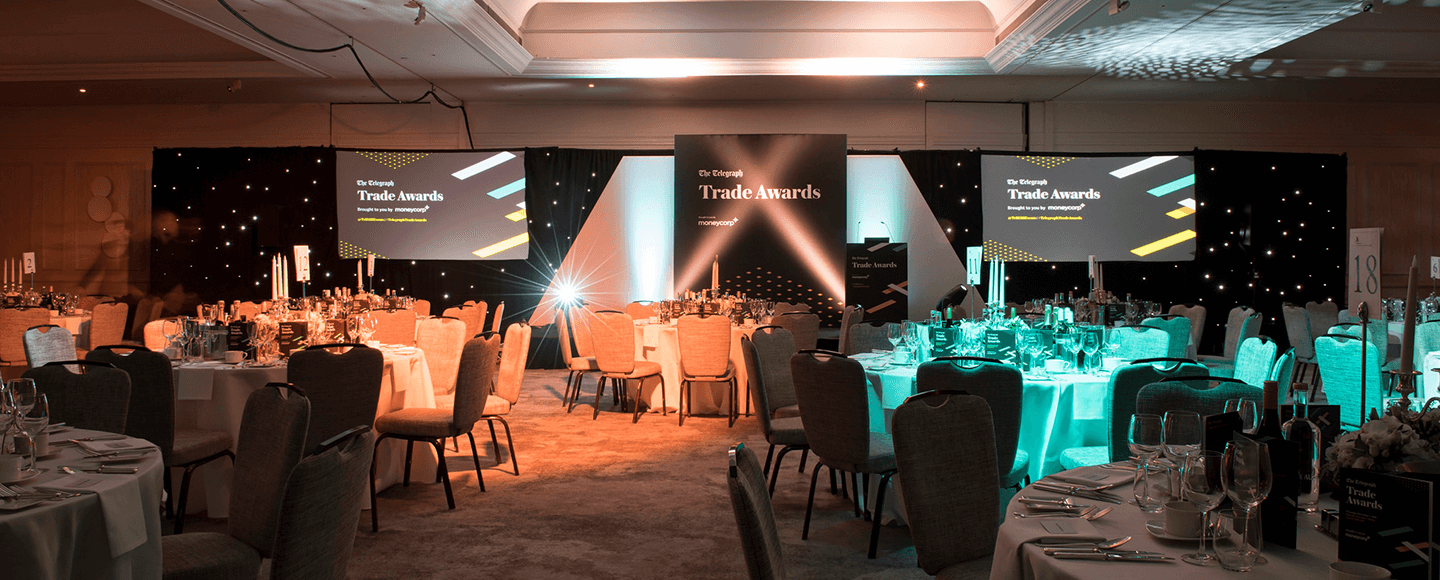 We celebrated with the UK's leading small businesses trading internationally
3 minute read
With two-thirds of trading SMEs in the UK planning to expand their international activity in the next 12 months, it's important to be supporting growth at home and overseas. This is why as a company we were delighted to sponsor the Telegraph Trade Awards.
Winning one of these prestigious awards offers unique exposure to new international partners and potential investors, enhanced status as a leader in this field and a coveted title.
The winners were:
Most Innovative SME Exporter:The Profs
Fastest Growing British Exports SME: naughtone
Best British SME International Brand: Minerva Labs
Best New Entrant into International Markets: Mous Products
SME Business Leader of the Year: Grant Mansfield, Plimsoll Productions
Best International Export SME: Exclaimer
Best Ethical Brand SME Exporter: Creative Nature
moneycorp Female Business Leader of the Year: Michelle Reilly, 6 CATS International
Celebrating the most successful British SMEs trading internationally, we thoroughly enjoyed supporting the international achievements of the SMEs taking part.
We also sat down with Lee McDarby, Managing Director of corporate foreign exchange and international payments at moneycorp to discuss the Telegraph Trade Awards 2018 and its associated benefits.
1) How did moneycorp hear about the event?
The idea stemmed from our CEO, Mark Horgan in conversation with the Telegraph, to acknowledge the success and innovation of great British businesses. It was moneycorp's inaugural Telegraph Trade Awards, and gave us an opportunity to be present amongst some of the most innovative companies.
2) What benefits has the event brought to moneycorp as a proud sponsor?
We were thrilled to sponsor and participate in such a prestigious event. The evening was a fantastic opportunity to raise brand awareness in the SME space and connect with new and existing clients through social engagement. Lots of interesting topics of conversation were discussed rather than just Brexit and we gained positive exposure through PR and social media.
3) Hearing from high-profile keynote speakers, what expert advice did you take away?
Allister Heath, Editor at The Sunday Telegraph and The Telegraph Trade Awards judge made some enlightening comments regarding British business. It was also great to hear from the winners including Michelle Reilly, winner of Female Business Leader of the Year. It was encouraging to learn that my Scouse accent was better than impressionist John Culshaw who provided excellent entertainment for the event.
4) What networking opportunities did the Telegraph Trade Awards bring?
It was nice to speak to clients I have never spoken to before, such as Print Management Europe with whom I shared a table. The event also raised awareness of moneycorp's excellent service proposition and has brought new clients into our business.
5) What were your overall thoughts of the evening?
Overall, it was an inspiring inaugural event which was more than just "alright on the night" after a lot of hard work went into overcoming many challenges organising the awards as are to be expected in its first year.
Whatever your payment needs are, we've got you covered...