Press Release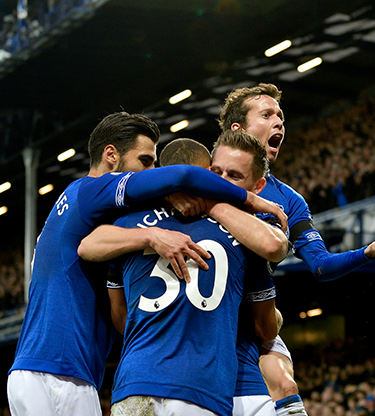 Everton Football Club has signed a new partnership agreement with moneycorp
Everton Football Club has signed a new partnership agreement with moneycorp, global specialists in currency exchange and international payments.
The multi-year partnership will see the company, which has headquarters in London and a worldwide presence, become the Blues' first International Payments Partner and also the exclusive foreign currency provider for all relevant services relating to foreign exchange payments, including player transfer transactions.
The agreement includes access to marketing assets across the Club, a presence at Goodison Park on matchdays to increase awareness of moneycorp's products in the UK, Australia, Brazil and the USA and branding on the back of Everton Ladies' shirts. The deal will make it easier for Everton fans to find competitive rates when exchanging currency, whether for their business international payments or for personal reasons such as sending money to friends and family abroad. Moneycorp will be offering fans a range of special offers to get the most from their international payments.
Alan McTavish, Commercial Director at Everton Football Club, said:
"We are delighted to welcome moneycorp to our expanding family of Official Club Partners. This partnership further highlights the increasing global appeal of Everton and represents another progressive step in our commercial growth. We look forward to developing this partnership together and forging a strong relationship."
Lee McDarby, Managing Director of corporate foreign exchange and international payments at moneycorp, said:
"Everton's motto, 'Nil Satis Nisi Optimum' (Nothing but the best is good enough), resonates with moneycorp. We always put our customers' needs at the heart of everything we do. We have been helping businesses and individuals achieve their goals and get their money where it needs to be since 1979. Foreign exchange is a crucial part of football today with hundreds of millions crossing borders in every transfer window. As Everton FC's official International Payments Partner, we are excited to share our expertise with the team, affiliate businesses and fans alike."
Zoe Dawson-Williams, Chief Customer Officer at moneycorp, said:
"We are thrilled to be supporting both the women's and men's teams as Everton FC's exclusive international payments provider. Everton Ladies' determination over the last year is an inspiration to us all and we are honoured to be part of their journey. The team at moneycorp knows that behind every currency transfer lies a unique story and we look forward to helping Everton fans with theirs."
Whatever your payment needs are, we've got you covered...