Press Release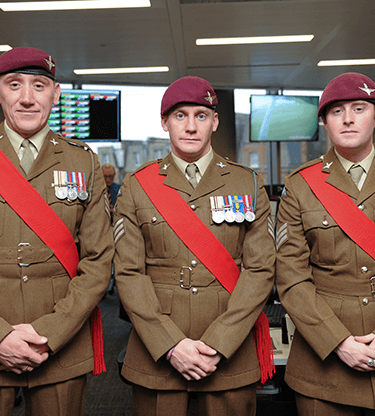 moneycorp host charity trading day to support injured and serving soldiers
Today, moneycorp the international payments firm hosted a number of injured soldiers from the Parachute Regiment who paired up with moneycorp foreign exchange dealers to help answer calls at moneycorp's head office in London.
It is the second year running that moneycorp has partnered with national charity, Support Our Paras to raise money for injured and serving soldiers and their families in this way.
The fund-raising day – on Thursday 29 November - was organised by Nick Robinson, Head of Alternative Sales at moneycorp, who served in the Parachute Regiment for nine years.
Currency specialists from moneycorp's corporate and personal teams, as well as some of the company's corporate clients were able to speak to the Paras about their time and experiences in the regiment.
This included hearing from Phil Neame, a 72 year old Falklands veteran who has twice climbed Everest, as well as Lt Gen Sir John Lorimer, Colonel Commandant of The Parachute Regiment, who came down to support the charity event at the moneycorp offices.
Last year's event raised £50,000 from the one-off trading day as well as from moneycorp employee donations. This year, the team will be hoping to raise even more, with all funds going toward Support Our Paras.
Mark Horgan, Chief Executive of moneycorp said:
"Support Our Paras is a fantastic organisation, one that continues to support former and current serving personnel who have proudly served their country. Our special trading day is a way to help raise awareness and raise money for the heroic actions of these brave people."
Stephen Cooper, Director of Support our Paras, said:
"We're grateful to moneycorp for their ongoing support over the past few years, and we hope to maintain our partnership for many years to come as the funds raised today will make a huge difference to the soldiers and families we support, and I'd like to thank all those involved."
Whatever your payment needs are, we've got you covered...