Press Release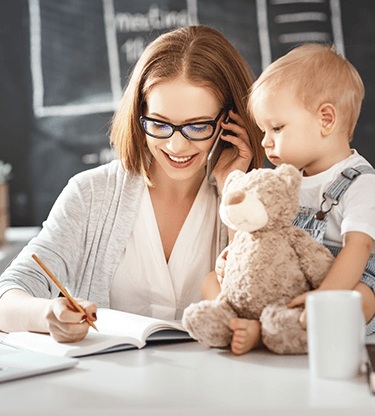 Business women reject 'mumpreneur' stereotype
Two in three UK business women find the term 'mumpreneur' unhelpful
Half of business women have encountered gender related barriers
One third struggle to be taken seriously when trading overseas
Female business founders today rejected the term 'mumpreneur' as patronising and unhelpful in championing the cause of female entrepreneurs.
The research, carried out by international payments specialist moneycorp, surveyed 500 female UK based business founders. 65% believed that 'mumpreneur', which has been used for over a decade to describe those who combine motherhood with running their own business, was a negative term. The top complaint, raised by nearly half (49%), was that the term is patronising.
The research, supported by Jo Fairley, the founder of Green and Black's chocolate, is outlined in a guide from moneycorp. The guide aims to give more women (and men), selling through online marketplaces such as Amazon and Etsy, the confidence to expand overseas. Worryingly, the research found that 56% of female business founders had never attempted to sell overseas with a third worried they'd not be taken seriously in these markets.
Jo Fairley, campaign ambassador for moneycorp remarked:
"Entrepreneur is already a gender free term, so we should no more talk of 'mumpreneurs' as we should of 'dadpreneurs'. A much more accurate description is actually 'flexi-preneuer', because more and more men and women are enjoying the flexibility and rewards of running their own e-sales enterprises. As a nation we must back them to succeed, and not hold them back through conscious or unconscious bias over their gender. I firmly believe there's never been a better time to expand overseas, nor a better time to embrace the opportunities such a working life offers."
The majority of female business founders had experienced some form of gender discrimination. A quarter had been subject to blatantly sexist comments, and almost twice as many (46%) felt they had been patronised by another person. One third had missed out on a business deal as a result.
Female business founders based in London had the toughest time, with 61% complaining of gender bias in contrast to 38% from the North East. Interestingly when quizzed as to their inspirational business heroes, the top answers were all male. Alan Sugar, Richard Branson and Steve Jobs were seen as individuals to emulate, Karren Brady was the top female hero in at six, just after the women's own fathers.
The research revealed some clear trends: Young women aged 18-24 were the most likely to report they had been held back as a result of their gender (57%), falling steadily in line with the age of the respondents, to just 11% for those aged 55+. Encouragingly the research revealed the opposite trend when it came to exports, far more 18-34 year old women had sold products overseas than their older counterparts.
Young women's enthusiasm for exports may reflect differences in familiarity with online services; a quarter of 45-54 year old exporters, reported difficulties accepting foreign currency, while less than ten percent of those under 24 felt the same. The number of entrepreneurs selling via online marketplaces has grown enormously in recent years. In 2017, there were an estimated 25 million sellers on eBay and 5 million on Amazon. Many of these individuals and businesses, large and small, have been affected by fluctuating currency markets and the opaque exchange rates provided by banks.
Zoe Dawson-Williams, chief customer officer for moneycorp commented:
"With many shoppers moving from high-street to online, it has never been a better time to be an e-seller. Our research shows an increasing number of women are embracing the opportunity to sell products overseas, and here at moneycorp supporting entrepreneurship is at the heart of what we do. The moneycorp online seller account offers a quick and smart way to take control of foreign exchange rates, making it easier than ever to grow an online business."
Earlier this month, moneycorp launched a new online seller account to support such trade. The service brings the benefits of multicurrency banking to those selling via Amazon, Etsy, Rakuten, eBay, and Cdiscount. Whether sending or receiving funds, moneycorp's new service means sellers can save up to 3%. It is initially available in GBP and EUR, providing services and guidance to help entrepreneurs on both sides of the Channel to succeed.
The guide can be found online here
Whatever your payment needs are, we've got you covered...