moneycorp host charity trading day to raise awareness for injured and serving soldiers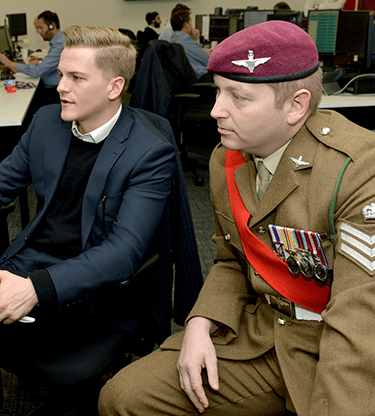 D-Day veteran, 95 year-old Jock Hutton, was among the guests raising awareness for national charity, Support Our Paras
2 minute read
We opened our doors to service personnel guests from Third Battalion of the Parachute Regiment, Chelsea Pensioners and Veterans who served in the Falklands, Iraq and Afghanistan to raise awareness for national charity Support Our Paras.
The special guests were paired up with our foreign exchange dealers to help answer customer calls at our head office in London. Currency specialists from our corporate and personal teams, as well as some of our corporate clients were able to speak to the Paras about their time and experiences in the regiment.
This included hearing from D-Day veteran, 95 year-old Jock Hutton, who was one of the first Allied soldiers to land in Nazi-occupied Western Europe during World War Two, securing the liberation of the first village on D-Day.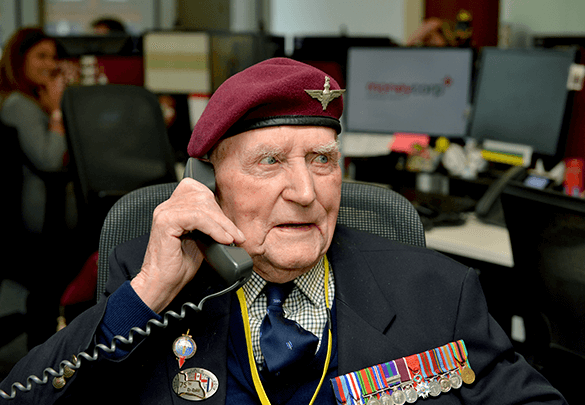 This is the third year that we have raised awareness for injured and serving soldiers. The annual event is organised by Nick Robinson, Head of Alternative Sales at moneycorp, who served in the Parachute Regiment for nine years.
Mark Horgan, Chief Executive of moneycorp said:
"It is extremely important for us to recognise the sacrifices our service personnel have made both past and present, and it is a real honour to host so many inspirational people while raising awareness for a fantastic charity."
Stephen Cooper, Director of Support our Paras, said:
"Taking on the challenge of becoming a dealer is no mean feat, and today's guests fully immersed themselves in today's experience. The awareness raised today will make a huge difference to the soldiers and families we support, and I'd like to thank moneycorp for their ongoing support."
Whatever your payment needs are, we've got you covered...