Interview with Christine Ohuruogu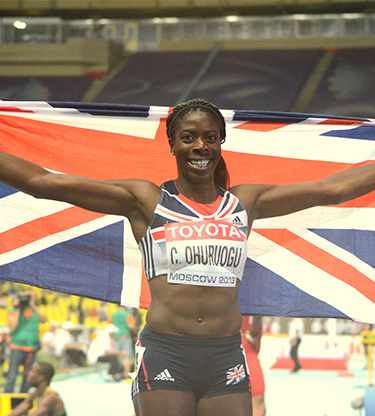 Navigating international payments after a world of track and field
Gold medal winning Olympian Christine Ohuruogu joined moneycorp recently for work experience in the legal department of the global foreign exchange company. We asked Christine a few questions about her experience:
How have you found your time at moneycorp?
"It's been a busy six weeks placement at moneycorp, and it's been great becoming fully immersed within the company. I've always just followed what I enjoy and a career in law spoke to me. After I completed my law degree I've done stints in other businesses, but nothing this extensive, so it's been a real learning curve."
What did you enjoy most about your placement?
"The benefit of being on a longer placement has been that I can get a good grip on the ebb and flow of the legal department. Mainly working on editing and reviewing contracts and T&C's, I've also been working on lots of data protection work, researching laws in different countries such as Brazil because of moneycorp's recent acquisition there, and California too as they've introduced some new laws on data too. It's been great to work on a whole host of projects, and help lend the legal team an extra pair of eyes.
I enjoyed writing terms and conditions from scratch as I wanted a challenge I could follow from start to finish. I got to take the request apart, figure out what was required and deliver – and ask questions along the way! What's been good is while it's a lot of work and a busy day, I've found myself thinking as the day is over about what I'll be delivering tomorrow. So I've not been racing back home, just yet!
Walking into a large business like moneycorp, it wasn't what I expected. Yes it's a corporate environment but it's not a stereotypically stuffy place. There's frequent flashes of humour and colleagues like to have fun as well as work hard."
What was the biggest challenge for you?
"Starting something brand new can be daunting. Leaving athletics, something I know how to navigate, and know and love, has been hard, but adaptation is necessary. If you don't try you'll never know, and we're always better off for trying.
I really felt the differences just being inside all day! I am a creature of the outdoors and I am used to moving around, so that took a while to adapt to."
How does the corporate world compare to the world of athletics?
"The corporate world is famed for its fast paced-ness, intensity and competitiveness, as is sport, but the competitive edge was not really what I would use as a comparison point in my experience. I mostly observed people working together to get their jobs completed. Even in the team I was in, it was about completing the tasks as efficiently and effectively as possible so as a team you can provide adequate support to the company."
Whatever your payment needs are, we've got you covered...