Exporting to Brazil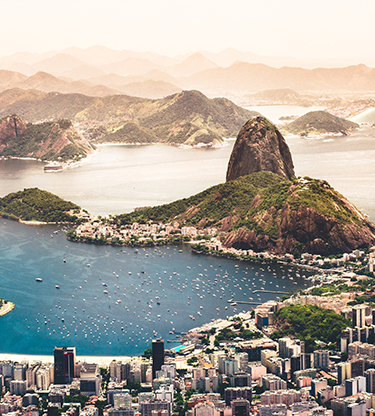 The growing economy presents both challenges and opportunities for British businesses
As the world's 8th largest economy, Brazil is an attractive market for UK exporters and forecasts suggest that the opportunity is only set to grow. British businesses looking to the Brazilian market won't be heading entirely into the unknown because there are historic trade and investment ties between the two countries. Between 2002 and 2012, UK exports more than doubled and UK services exports were 59% higher in 2014 than in 2009. An expanding labour force in Brazil together with a globally integrated business base mean that it's an attractive prospect for exporters and businesses considering international expansion.
Benefits for UK businesses exporting to Brazil
Population growth means that there is an expanding consumer market in Brazil and growth is also fuelling expansion in the B2B space and within services. Another benefit is that Brazil has a familiar European culture and similar business practices. The presence of the world's largest investment banks and a modern banking system form part of the infrastructure that demonstrate the opportunity. Significant growth in data centres and colocation facilities are also a factor, attracting major players from the tech space and supporting growth in associated services and specialist industries.
Challenges for UK exporters to Brazil
While Brazil may present an opportunity in terms of market potential, there are some specific challenges relating to trading with the country. One of these is the complexity of the tax system – currently there are over 60 different taxes, including multiple levies on goods and services which vary between federal districts, states and municipalities.
It's estimated that a medium-sized company in Brazil spends more than 1,500 hours a year on taxes, compared with an average of 114 hours in the UK. That's a big difference, but there is change on the horizon. Plans to modernise the tax system are high on the list of government priorities; while there are currently no plans to reduce overall tax costs because of a need to invest in the country's infrastructure, a simpler system could dramatically reduce the resource costs for companies in paying those taxes.
Brazilian currency considerations for UK exporters
The Brazilian real is a restricted currency that cannot be sent directly into Brazil. In most cases, individuals and companies must sent their native currency for conversion on arrival in Brazil and often this comes at a poor rate of exchange. Exchange rates aren't the only issue when sending money to Brazil. All funds sent must be registered with the Central Bank of Brazil (Banco Central do Brasil). Incorrect registration can lead to further complications with repatriation. In addition, transfer are often slow and it can be difficult to secure a guaranteed delivery date, which can be difficult when looking to build strong relationships with Brazilian partners.
How moneycorp supports UK businesses exporting to Brazil
Thanks to the acquisition of Brazilian foreign exchange company Novo Mundo Corretora de Câmbio earlier in the year, moneycorp can now offer a much more cost effective and efficient way to send money to and from Brazil. With an established presence across São Paulo, Curitiba, Rio de Janeiro, Belo Horizonte and Porto Alegre, moneycorp can now offer a comprehensive range of currency services in country.
A licensed FX institution in Brazil for exporters
As a licensed FX institution with the approval of Brazil's President and the Central Bank, moneycorp offer the following benefits:
Currency support in Brazil for UK businesses
The moneycorp Brazil team also help businesses reduce resource costs for managing their business in Brazil. As well as facilitating currency transactions, the team can process paperwork and approve trades without any costs or obligations to use the service. Funds can be wired directly with the bank and there is an average transfer time of two days.
As well as great exchange rates and significantly lower fees than banks, overseas payments with moneycorp will not require for all paperwork to be translated into Portuguese, saving time and money. For any business looking to take advantage of the opportunity that the Brazilian market presents, moneycorp can provide expert guidance and support which helps organisations mitigate their foreign currency risk and seize the opportunity to expand internationally.
Whatever your payment needs are, we've got you covered...