The effects of Covid-19 on international business travel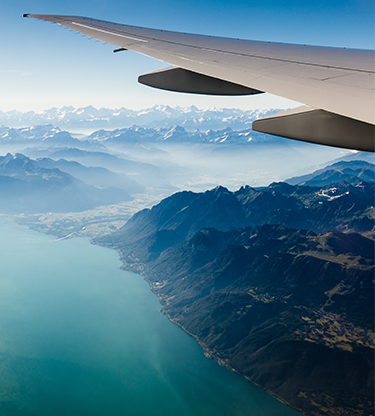 Will it be business as usual for travel in the new year?
The pandemic has eradicated overseas business travel. Now as much of the world are grappling with the second wave of Covid-19, will we continue to see a decline in business trips? How will the travel industry adapt?
November's lockdown pushed the potential for overseas business travel (or indeed, travel of any kind) further from reach. Even after its return, it remains unclear whether businesses will be willing to risk the safety of their staff. We examine the effects of the pandemic on business trips, what the future of travel looks like and what the alternatives might be.
When will overseas business travel resume?
Individuals living within Tier 1 or Tier 2 areas will be permitted to travel to certain countries after the nationwide lockdown has ended. A 14-day quarantine period will apply to anyone returning to the UK from a country not shown on the official list.
It's worth noting the distinct difference between travelling for business and for leisure. Overseas leisure travel is expected to resume, as the safety risk will sit solely with the individual. Businesses are unlikely to make that same risk where their staff are concerned, at least, not immediately.
McKinsey estimate regional travel as the first to return, but only for essential business operations (such as sales). The expectation is that manufacturing, pharmaceutical and construction sectors will resume travel first. International business travel is tipped to be one of the last phases of recovery.
Will there be a decline in overseas business travel as a result of Covid?
Business travel during Covid has already seen a significant decline since March. According to the Financial Times, American Airlines reported a staggering 95% decline in business traffic.
Research by McKinsey shows a slow return for business travel, with recovery potentially taking years. Sectors that can replace travel with technology are likely to do so, especially those hit hard by the pandemic (such as retail).
Although the experts predict a future dip in business travel, a recent Globetrender survey shows otherwise. Well over half (60%) of business leaders believe there are some deals they can't make over video call. Just under half of survey respondents said they expect to be travelling before the end of 2020 but would opt out if they had to quarantine.
What will international business travel be like in future?
The underlying message for the Covid-19 pandemic is that nothing will be the same again. The travel experience will undoubtedly be different. Masks, temperature checks and reduced capacity flights are likely to become commonplace as the travel industry tries to get back on its feet.
Business travel insurance is also shifting steadily. Policies from most UK providers will cover coronavirus treatment abroad, but only if you've followed FCDO advice. Insurers are also starting to change their policies on travel cancellations caused by the virus.
What alternatives are there to business travel?
The pandemic has taught us that many of the things we deemed essential for business may not be as important as we first thought. Months of meeting online and working long distance have proven travel to be obsolete in some cases.
Conferencing software has undergone rapid innovation to meet the demands of a barrage of new users. Professor of organisational psychology at Manchester Business School believes up to 90% of business travel will be replaced by virtual meetings instead. Task management software has become king, too. Companies now have digital spaces in which to collaborate or work with one another, without needing to be in the same location.
The lack of face-to-face interactions required a shift in leadership approaches. Real-time information sharing and fast decision making through digital platforms has become standard business practice, making a return to the 'norm' seem almost counterproductive.
It seems that, for every professional who has adapted to the lack of business travel during Covid, there's one who sees it as an essential part of business and is waiting until they can take to the skies again.
If your company has seen a change to the ways it conducts overseas business with foreign suppliers/clients or cooperation with international offices, working with moneycorp can provide you robust and easily accessible foreign exchange services. As more business heads online and to virtual platforms, we can provide you with 24/7 access to your online international payments account, alongside competitive exchange rates and a full range of FX tools, to help you navigate the new terrain.
Whatever your payment needs are, we've got you covered...