10 tips from moneycorp during Mental Health Awareness Week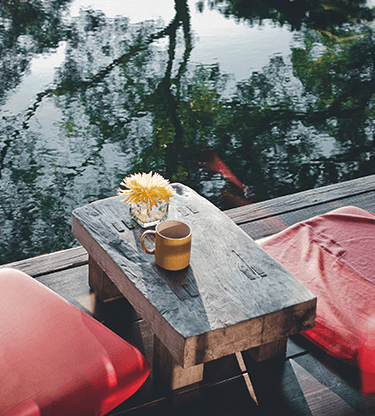 With it being Mental Health Awareness Week and lockdown still having a huge effect on our lives and in particular social interactions, we are encouraging this year's theme, that of connecting with nature.
Getting outside and exploring nature has in the last year become a real treat, something we appreciate now as a privilege after three lockdowns. After committing to plant 10,000 by the end of this year, we wanted to share our colleague's tips for staying active and positive. And, while these tips are good for during lockdown, there are also applicable to normal life.
1. Running/fitness
Tanya Uniacke: "Go for a run – with a really good Spotify playlist. Might feel like a challenge but you'll feel better after the event. I find before work is best as it gears you up nicely for the day ahead."
Ben Thorne: ''I cannot extol the virtues of daily exercise enough. I've found it so helpful when dealing with the current situation, obviously I'm lucky having Richmond Park on my doorstep but the daily run is a great way of clearing one's head and has definitely had a positive impact on not only my fitness but my mental wellbeing, it's also great to see the time improving albeit not as quickly as one wants. ''
2. Online classes
Monique Fivaz: "I've been doing ballet and Zumba classes, as well as online HIIT sessions."
Alex Stead: "Playing an instrument and doing online courses to keep busy."
3. Chill out time
Vishal Pindoriya: "Chill out playlists on Spotify normally chills me out and long walks with Audible are nice".
4. Frequent fresh air
Larissa Hirst: "Getting some fresh air and enjoying outdoor space is so important as we are even more glued to screens than usual. And if you can't go outside, bring it inside with house plants and flowers that you can easily order online."
5. Staying connected
Ryan Timms: "Virtual quiz nights with friends and family helps keeping in touch and is a great way to have fun on a Friday night without going to the pub."
6. Family time
Lee McDarby: "An hour of school a day with my daughter – My maths and spelling is improving".
7. Using Apps
George Powell: ''I have started using the Headspace app during lockdown. I used a bit before it all started but I have found it recently useful in the past couple of months. Even if it's just a 3 minute mediation it really has an impact.''
Barry Cooper: ''I love to listen to a good podcast, Adam Buxton and The Blindboy Podcast being 2 that I really enjoy and help me when I need it. Blindboy also does some great mental health podcasts. I also love these 10min grounding meditation sessions, they're quick and easy to do at any point of the day, and I find checking in with your body as you go through the session is very helpful for how I manage my mental health.
Lee McDarby: "Headspace and Calm both have free trials and I'm trying to get into mediation which helps me to deal with remote working."
8. Cooking
Duncan Andrews: "Home cooking (a new skill I seem to have acquired) and walks in green spaces have become increasingly precious at this time."
9. Looking to the future
Larissa Hirst: "I like to think about what we can do once we are back to some form of normality, so I've wrote a list of activities to do in the near future to give me a bit of perspective."
10. Do something for others, even if it's small
Kirsty Garner: "Go over and above for a neighbour. My neighbour above (never spoken to) dropped her pen onto my balcony. I wrapped it up in anti-bac wipe and left it outside her door with a note introducing myself. A few days later I had a note from her with some chocolate saying thanks and how my note cheered her up. It made me feel great!"
We hope that our ideas bring enjoyment and comfort for some. One of our Account Manager's John Sawyer summarised: "However busy we are whilst in lockdown, most of us will definitely have a little more time than usual to sit still and to relax, a chance to 'be' rather than to 'do'.
"Some people are struggling mentally with the whole isolation situation, the inability to see loved ones in person, home schooling whilst trying to work, tackling stresses related to job insecurity, worrying over issues of finance and some have general fears about the world and the virus itself. It's understandable. Please reach out to trusted friends and family at these time, it's really ok not to be ok and people will care and want to be there for you.
"We can use the extra time that we have to do whatever it might be that helps us to relax, to unwind, taking time to destress and simply breathe - watch a film, go for a walk, run, cycle, eat ice cream or chocolate!
"We will be back out of lockdown soon, and we must avoid that looking back in regret - saying if only I had done more of this, or some of that, when I had that extra time. Do not regret not having done something when you had the chance."
Whatever your payment needs are, we've got you covered...