Press Release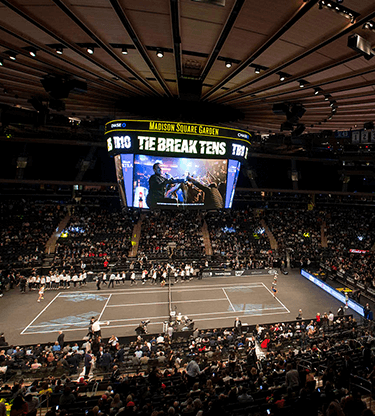 Tie Break Tens Announces moneycorp as Official Foreign Exchange Partner
LONDON, March 5th, 2019 - Tie Break Tens, the fast-paced, short-form tennis format, is excited to announce that moneycorp, the global currency experts, have become their Official Foreign Exchange Partner.
The two-year partnership will see moneycorp, which has headquarters in London and a worldwide presence, become Tie Break Tens global foreign exchange provider for all international payments. The agreement includes access to marketing assets at Tie Break Tens live tournaments to increase awareness of moneycorp's services around the world.
Featuring thrilling knock-out tennis, Tie Break Tens tournaments are held over one evening and involve eight players with each match consisting of a Championship tie-break to ten points. Following successful tournaments in London, Vienna, Madrid, Melbourne, Madison Square Garden in New York City and Indian Wells – Tie Break Tens are looking to expand with several tournaments over 2019.
"We are delighted to partner with moneycorp as our Foreign Exchange partner" said Felicity Barnard, CEO of Tie Break Tens. "With several tournaments in the pipeline for 2019, this is an exciting time for both Tie Break Tens and moneycorp and we very much look forward to working together on this partnership over the next few years".
Lee McDarby, Managing Director of Corporate Foreign Exchange and International Payments at moneycorp, said
"We are thrilled to be supporting Tie Break Tens as their international payments provider. The team at moneycorp knows that behind every currency transfer there is a unique story and we look forward to helping Tie Break Tens with theirs."
About Tie Break Tens:
Tie Break Tens is a quick-fire version of tennis that anyone can play. Unlike conventional tennis matches, Tie Break Tens matches are comprised solely of tie breaks – no games, no sets, just exhilarating ten- point breakers in which every point counts.
The Tie Break Tens series sees world-class players going head to head in fast-paced, action-packed knock out tournaments at prestigious venues around the globe for winner-takes-all prizes of $250,000 each. So far, the Tie Break Tens has visited London, Vienna, Madrid, Melbourne and New York City.
To coincide with the grass-court season, in summer 2018, Tie Break Tens launched their grass roots initiatives, TB10 Challenger & TB10 Play which helps drive participation levels in tennis by encouraging people to get out there and play.
For more information, please visit www.tiebreaktens.com
Whatever your payment needs are, we've got you covered...