Your International Move Checklist
Planning to make that move overseas? We've put together a quick and easy checklist to make sure you've got everything sorted for that big life change.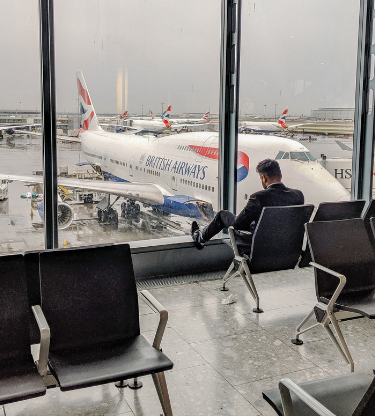 Here is Your International Move Checklist
4 minute read
Planning to make that move overseas? Packing up and moving to a new country may seem exciting at first glance but preparing for that move leaves much to be desired. From completing visa paperwork to setting up an international SIM card, we've put together a quick and easy international move checklist to make sure you've got everything sorted for that big life change.
While many make the move abroad for retirement or remote gig work around the world, an increasingly large amount of Americans are relocating outside of the U.S. for financial benefits. In fact, a record-breaking number of Americans renounced their citizenship in 2020 over concerns of increased tax rates. But this trend of relocation isn't anything new and with over 9 million U.S. citizens living overseas in 2020 alone, it's clear that the appeal of expat life, regardless of reason, is here to stay.
Organize Your Documents
People come with a lot of paperwork so making sure you have your important documents in order beforehand will save you a headache in the long run. Confirm that you have the following documents sorted and safely stored for you to easily access when the time comes:
Passport
Visa/Work Permits
Birth Certificates
Travel Tickets
Medical Reports
Driving License

You can get an international driving permit for certain destinations before switching out your current license to your destination country's license.
After gathering these initial documents, make sure to also double-check for any other required materials requested by your new home country. You can visit any government website to see if there are any specific documents you may need to enter as well as any current regulations!
Plan Your Finances
Planning your finances is key to making your move abroad go as smoothly as possible. Here are the essential things you need to remember:
Taxes
This is usually the most complicated part of any international move. Your first move is to contact your pension fund and bank branch. Next, learn more about the host country's tax laws and check whether you'll be taxed in your new home.
Banking
While converting your money from one currency to the next may be a last-minute thought, you're likely to have to make a large payment, such as a down payment to your new home, at some point before your move. Without a foreign currency exchange specialist by your side, you may end up paying more than you should due to poor exchange rates.
For example, at the start of the pandemic, the exchange rate for the US dollar to Euro dropped to around 1.1173, which meant an American purchasing a home in Portugal at that time would have paid USD 233,460 for a home that cost Euro €200,000. However, since then (as of June 29, 2021) the exchange rate has moved higher to 1.1895, which means the same home in Portugal could now cost $237,900, an increase of over $4,440.
Make sure to do your research to find the international payment provider that will offer you the most seamless experience as well as the best exchange rate.

Insurance
Moving abroad can be risky, no matter the destination. Make sure you insure all your belongings. Here are some of the main ones to look into:
Travel Insurance
Life Insurance
Home Insurance
Removals Insurance
Medical Insurance

You may want to arrange private health care so do your research well in advance and gather the correct medical records as provisions vary by location.
Ready to Get the Move On
Moving overseas can be a complex and lengthy process but keeping a checklist is the easiest way to make sure you have everything you need ready to go. Download our moving abroad checklist to help you get started.