Protecting against fraud online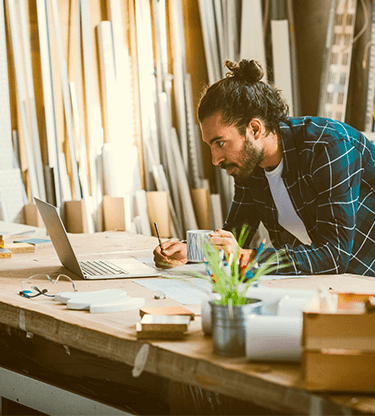 Learn how to avoid fraud with our helpful guide
4 minute read
If you've been concerned by recent stories such as the hacking of Capital One customer data, then you may be interested to know that while financial companies continue to improve their security measures, there are also steps you can take to protect yourself against fraud online. The first step is to make sure your computers and devices are protected by installing and maintaining your anti-virus software and firewall on your personal and business computers. If you suspect your computer is infected, do not use it to conduct your finances until it has been cleaned.
What is the nature of the security risk?
Security threats such as hacking, ransomware and phishing are all on the rise and according to Akamai's 2019 State of the Internet / Security Financial Services Attack Economy Report, half of all organizations impacted by observed phishing domains were from the financial services sector. While this is concerning, we work hard to ensure that your data is protected. It's our top priority to ensure you can safely and securely conduct your financial transactions. In addition, there are many different ways that you can protect your data online.
Check your emails carefully
One of the ways that hackers can access your data is through phishing via email. One way you can protect yourself is to never accept third party banking details or changes to payment instructions from suppliers, business partners or other organizations by email. If you receive such an email, check all the details for inconsistencies in the email, such as a different email address or details in the text or sending domain. For example, all our emails will be sent from @moneycorp.com or @updates.moneycorp.com. Even if it all looks genuine, it makes sense to pick up the phone to check before you provide any details. We're always happy to answer any concerns swiftly to make sure you're protected and you may find that all your contacts appreciate the care you're taking and may be able to take steps to protect others.
Access your accounts via an official website
If you're looking to update your details or transfer funds, always enter our web address https://www.moneycorp.com/en-us/ straight into your browser's address bar. Don't use links from emails or any other sites that you don't trust - they could take you to a fake website that looks like ours which is designed to steal your details. The same is true for all your transactions; while it's tempting to click straight on an email, typing the URL in a browser takes seconds and can mean that you avoid inadvertently sharing your banking details with hackers.
Protect and maintain your passwords
Having a strong password isn't enough. Make sure that all your passwords are unique; if you have the same password for all your financial, e-commerce and email accounts then it makes it easier for hackers to access all your accounts. Your email can be particularly important; if you suspect your email has been compromised, be sure to update the password immediately and allow for two factor authentication when possible. When it comes to your user IDs and passwords, keep the details to yourself, and remember that while you might prefer to keep things the same, when it comes to security, it pays to change things up. Remember to change your moneycorp online password at regular intervals in the 'Account' section of your moneycorp online account.
Have additional questions?