The Perfect Luxury Destinations for Social Distancing
If you are looking for the ultimate luxury escapes that are unique, private, and off the grid, have a read at our top picks.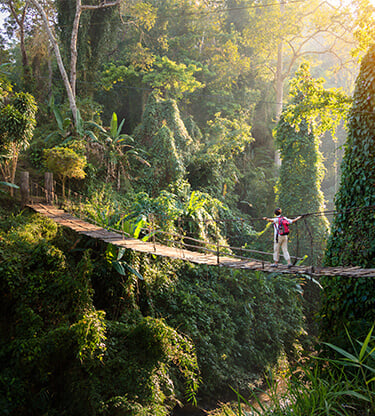 The Perfect Luxury Destinations for Social Distancing
4 minute read
Exploring the great outdoors is becoming more popular this fall and winter. Travelers want to steer clear of large crowds and big cities— and when it comes to clean air and ventilation, it's impossible to beat the crisp fresh air from high up in the mountains or the sea breeze from warm relaxing beaches. If you are looking for the ultimate luxury escapes that are unique, private, and off the grid, have a read at our top picks.
Here are our top picks:

This mini Galapagos Island in Seychelles, boasts the ultimate in privacy, seclusion, and security with only 16 beautifully crafted villas with private pools, and 7 beaches. Visitors can have a pick of activities such as scuba diving, hiking, windsurfing, kayaking, and even conservation work as it is also a sanctuary to thousands of tropical birds and home to 3000 free-roaming Giant Aldabra Tortoises. Dine wherever you want, whether on top of Banyan trees, the sea, or on the beach all offered at your convenience with the help of your personal assistant.
If you are hankering for even more privacy, they do offer the option of an exclusive whole island rental in an estate that comes with 3 villas for you and your guests. It comes equipped with a personal assistant, butler, maid, and of course a private chef.

Nestled in the slopes of Sasakwa Hill in the 350,000 acres of the Singita Grumeti Reserve, Serengeti House is an exclusive-use retreat designed to welcome family and close friends to relax in a modern African home away from home. The resort has uninterrupted views of the Serengeti plains, a watering hole frequented by wildlife throughout the day, and ample indoor and outdoor lounging spaces for guests to truly immerse themselves in the quiet beauty of the African desert.
Some of the amenities offered for up to 8 guests in this location include a 25-meter infinity pool, private tennis court, pavilion, a tented spa suite, and a fitness center. Private staff, a full-time guide, and a dedicated vehicle ensure guests experience tailor-made activities including morning and afternoon game drives, walking safaris, and even joining a community visit to experience Tanzanian culture and learn about the impact of tourism in the region. The bonus is that each guest's stay contributes to conservation initiatives at Singita.

Bhutan is the natural choice for a vacation to soothe the mind and enrich the spirit. Aside from being known for its Innovative Gross National Happiness Index, Bhutan has dramatic landscapes, monasteries, fortresses, and is also the world's only carbon-negative country. Located in the spiritual heartland of the kingdom is Six Senses Bumthang, a luxury forest lodge surrounded by pristine forests, meandering rivers, quaint villages, lush greenery, ancient monasteries, and sacred monuments.
After a day of horseback riding, hiking in hilltop forests, or wandering through monasteries, enjoy the spa and wellness center and hot stone facilities. Six Senses Bumthang offers only 8 suites and a two-bedroom villa that offers over 2,500 square feet of private living space. Leave your electronics behind and instead bring a stack of philosophical books. This is definitely the location perfect for pondering life's big questions.
Inspired by these luxury social distancing escapes and ready to travel?
COVID-19 may have changed the ways in which we will be traveling in the near future, but the realm of opportunity and great escapes are still possible. Let industry-leading providers take the stress away from your travels with great solutions such as finding you the best foreign exchange rate. Don't forget to contact moneycorp's foreign exchange specialists and make the most of our great rates when you spend across the world.