Guide to Moving Abroad: 6 Months Before You Leave
To help you stay on top of the logistics of your international move, we've put together this quick and easy three-part checklist for moving abroad. Check out part one here!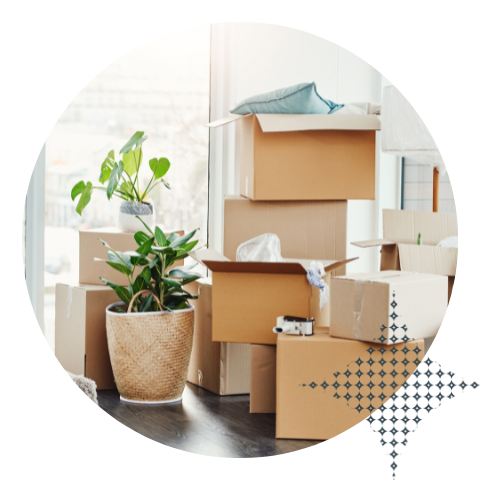 Checklist for Moving Abroad: 6 Months Before You Leave
Deciding to pack your bags and move overseas can seem like the dream of a lifetime but collecting important documents, finding a new job, and relocating belongings can quickly turn that dream into a logistical nightmare. To help you stay on top of all the moving parts, we've put together this quick and easy three-part checklist for moving abroad.
Part One: 6 Months Before You Move
While six months may feel like a huge amount of time at first glance, it gives you the perfect opportunity to start crossing off the big-ticket items on your list that require a bit more time and commitment before moving to a new country.

Get Familiar With the Job Market
Don't have a job lined up yet? Now is the time to start researching and getting familiar with the job market in your new home. Whether you set up job alerts or simply research local employers in that area, understanding what opportunities are available, and realistic, for your new life is imperative. Networking sites like LinkedIn are a great starting place for getting the word out about your big move and they can help you start connecting with people locally.
Organize Your Belongings
Sorting through your belongings may seem easy but it's often one of the most lengthy parts of the process. Deciding what you want to sell, what you should put in storage, and what you might want to take with you can be difficult, especially if you're sentimental about your things. With this in mind, starting this process early can help take some of the pressure off you in the future.
Visit the Area
While it may not always be possible, taking some time to spend a long weekend in the area you're moving to is a great way to help you get familiar with the local language, culture, and atmosphere. If you don't already have your living situation figured out then you can also take this opportunity to meet with a local property agent.
Research Your Finance Options
Banking is different in every country which means that researching what's available in this new location is essential. Start thinking about what is most important to you in terms of your finances.
Do you want to have access to multiple ATMs? Would you like your bank to offer assistance in your native language? Are you trying to avoid large monthly charges? If you don't want to completely switch banks then setting up an account with an international payments provider, like Moneycorp, might be the solution for you.
Moneycorp allows you to easily transfer funds between your home country bank account and your account abroad. This means you save time and money, all while getting the best exchange rates available on all of your transactions.
Check Passports and Visas
Getting passport and visa paperwork sorted can be a big hassle, especially if you need to renew anything. And if you're planning to immigrate completely, then the process can often get a bit more complicated as different countries often have vastly different visa requirements.
For example, United States citizens immigrating permanently to France will need to apply for a residence permit. Other countries, like Ireland and Italy, allow you to obtain dual citizenship for just having ancestors born there. Taking the time to research the requirements for your specific country ahead of time can save you a big headache.
Stay tuned for part two of our moving abroad checklist.