Checklist for Moving Abroad: 1 Month Before You Leave
To help you stay on top of the logistics of your international move, we've put together this quick and easy three-part checklist for moving abroad. Check out part three here!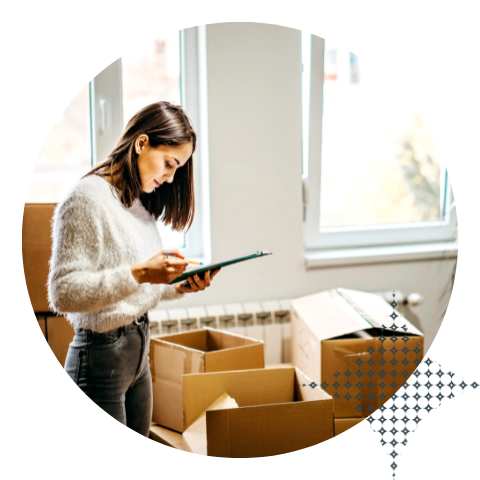 Checklist for Moving Abroad: 1 Month Before You Leave
Deciding to pack your bags and move overseas can seem like the dream of a lifetime but collecting important documents, finding a new job, and relocating belongings can quickly turn that dream into a logistical nightmare. To help you stay on top of all the moving parts, we've put together this quick and easy three-part checklist for moving abroad.
Part One: 6 Months Before You Move
Part Two: 3 Months Before You Move
Part Three: 1 Month Before You Move
With only one month before your big move, time is ticking to get organized. From SIM cards to securing emergency funds, this last month of preparation is all about checking off the small items on your to-do list.
Redirect Your Mail and Other Forms
With your big move drawing closer, it's now time to set up a redirection service for your mail. There are a few different redirect options for international mail so it's important that you notify the post office of your new address before you leave so that they can help you determine the solution that best fits your needs. You should also contact your electoral office about redirecting voting forms.
Complete a Final Financial Check
Regardless of where your final destination is, you should make sure that you have enough local currency to get you through the first week of living in your new home. If you haven't already done so, set up a free account with Moneycorp so that you can move funds abroad without incurring any unnecessary charges or fees.
Sort the Small Stuff
Despite preparing for this big move well in advance, some small things may have still slipped through the cracks. Run through the questions below to ensure that you've got all your last-minute items taken care of:
Did you set up an international SIM card? Doing this can help you save money on phone calls when you first arrive overseas.
Did you set up a power of attorney? If you want a family member or trusted friend to handle your financial affairs then setting this up may be the way to go.
Did you notify your utility company about the move? Contacting them will ensure that you don't end up getting billed accidentally while abroad.
Did you cancel your memberships? Make sure you cancel any gym memberships, subscriptions, and streaming services you'll no longer be needing.
Did you arrange private health care provisions? Health provisions vary between countries so research what healthcare options your new home has available to you.
While taking the leap to live overseas is undoubtedly an exciting decision, it's also one that requires a lot of patience, planning, and practicality. As you begin making arrangements for your travel, remember that there are always going to be some bumps along the way. But with Moneycorp, at least you know the financial part of your journey is in good hands.