Our Mission
We reinvent how businesses, financial institutions, and consumers securely navigate the global payments market.
Our Story
Get in Touch
Moneycorp announces the appointment of Velizar Tarashev as the Group's Chief Executive Officer
Velizar will succeed Mark Horgan, who will step down after 12 years in the role. Mark will remain on the Board of Moneycorp and will assume the role of Deputy Chairman in early 2024.
Press Release
Financial Highlights
A snapshot of our global impact in 2022
£70.4m
EBITDA
£73.3bn
Trading Volume
£220.1m
Gross Revenue
85%
EBITDA Growth YoY
32%
EBITDA Margin
71
Net Promoter Score
Global Reach
We have 63 regulatory permissions and 17 offices worldwide.
1M+
International payments sent in 2022
16
International liquidity providers
120+
Currencies to exchange
190
Countries to send payments to
Awards
A few notable recognitions we've received for our work in the international payments space.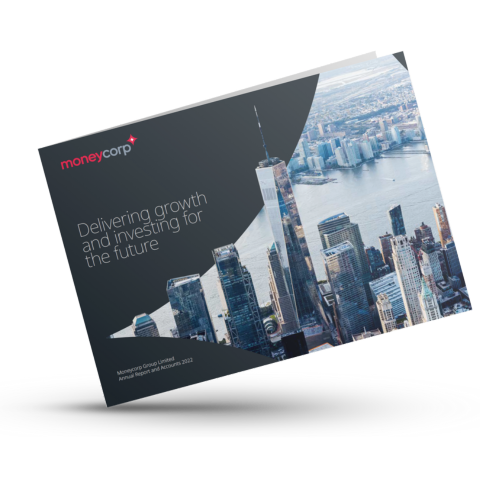 Annual Report 2022
Moneycorp is a world-leading cross-border payments provider that helps clients navigate the complex global payments market. Read our 2022 Annual Report for a closer look into the company.
Read Annual Report 2022
Velizar Tarashev joined Moneycorp as Chief Financial Officer in February 2021. He has 20 years of international strategic and operational experience for global banks and consultancies in the UK and the US. He joined Moneycorp from Barclays, where he spent 13 years in a variety of leadership roles, including CFO for Barclays Private Bank and CFO for the Operations and Technology division. Prior to joining Barclays, Velizar spent several years with UBS Investment Bank, helping establish its Banking M&A and IPO offer for the CEE region, and at AT Kearney, where he delivered strategy and operations consultancy for major FMCG and pharma brands.
Alan Bowkett joined Moneycorp as Chair in 2020. He is a highly experienced Chair of international publicly listed and private equity backed companies operating in highly regulated markets. Alan is the former Chair of Redrow plc, the FTSE 250 housebuilder and former CEO of Berisford plc which then was a FTSE 250 holding company. He has previously served as Chair at several UK and international businesses, including IDH, Diaverum AB, Strix, Avio Srl, Acordis BV, Metzeler SA and Norwich City Football Club. Alan is currently Chair of EVAC Group Oy, Ontic and Cambridge Education Group.
Emma Alley is the Chief Operating Officer at Moneycorp. She leads a global team of 250 people and oversees Technology, Payment Operations, Supply Chain and HR. Emma joined Moneycorp in 2013, and her previous role was Head of Strategy & Financial Planning. Emma is a Chartered Accountant and has previously worked in Transaction Services for KPMG and Davy Stockbrokers.
Peter Green is Moneycorp's General Counsel and Chief Risk & Compliance Officer. He has held a number of senior legal and compliance roles in a variety of international blue chip organisations. Peter joined Moneycorp in 2021 from MoneyGram International, where he served as their Global Head of Regulatory Affairs. Peter has previously held roles as General Counsel and Chief Compliance Officer at GE Capital Bank, Fawaz Al Hokair Group and Capita Group. In addition he was the Chief Legal Advisor and Chief Compliance Officer for Marks & Spencer Financial Services.
Darren has over 25 years of experience in financial services and is the former Deputy CFO of Moneycorp Group. Before joining Moneycorp, Darren was Group Financial Controller and Director of various companies of the Worldfirst Group. He previously worked at Mizuho International, JP Morgan, Rabobank and West Deutsche Landesbank. Darren is an ACA-qualified accountant and trained at PWC.