Fast, free and award-winning money transfers
Join the thousands of customers enjoying zero international transfer fees.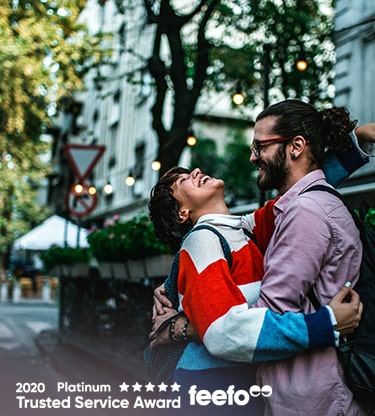 Helping customers to transfer money abroad for over 40 years.
At Moneycorp, we understand that when it comes to making large international payments, you need confidence in who you choose. That's why we offer high-street bank-beating exchange rates, expert guidance, fee-free transfers, award-winning 24/7 support – and of course – fast, secure delivery.
Customers choose us for numerous international payment reasons – buying or selling property abroad, transferring into foreign investments, working around the globe, and retiring in the sun to name just a few – but don't only take our word for it, read our excellent reviews.
Open an account in minutes, transfer money abroad at the click of a button and receive award-winning customer support every step of the way.
Open your account
Sign up online for your money transfer account in minutes.
Get the rate
Tell us who to pay, which currency you need and how much you need to transfer.
Exchange your currency
We'll exchange and deliver it safely, on time, leaving you to focus on what's important.
Open an account to start transferring today
* When your friends sign up, exchange and send £2,500 within three months, you'll both receive £75 each. Read our refer a friend terms and conditions
40+ years of foreign exchange
Traded £43.7 billion in 2020
500+ dedicated employees serving our customers worldwide
Feefo award-winning customer support
Open an account online or call us to get started
Open an account to start transferring today